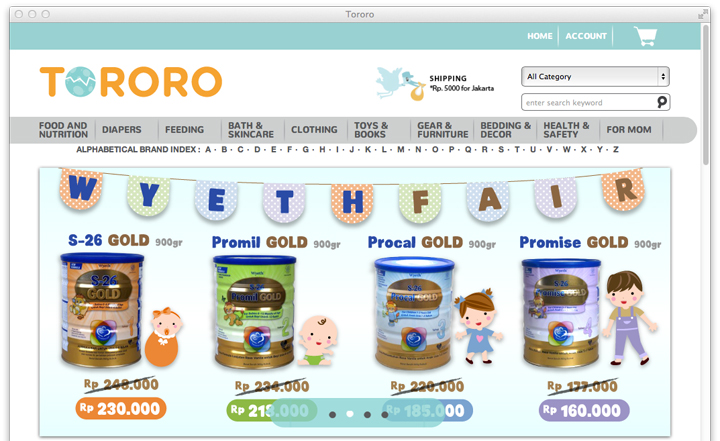 Tororo.com, an e-commerce site that sells baby products online, is Kaskus CEO's Ken Dean Lawadinata new startup. The startup is self-funded and has been in operation since late February, with over 30 employees.
Ken says that In the last eight months he has been splitting his time between Kaskus and Tororo. Besides good time management skills, Ken credited his staff for making this journey smoother.
"I have a team in place [at Tororo] consisting of experienced [people] in the retail chain such as Carrefour and Lotte. With that I can separate my time between this project and Kaskus," he said.
In our last Startup Asia Jakarta conference, we understood that Kaskus, Indonesia's largest online forum, is seeing over 28 million unique visits each month. Despite having the experience running a site as huge as Kaskus, Ken says that running an e-commerce company like Tororo poses a different challenge as his team needs to understand the entire chain of process such as shipping, product storage, and customer service. "I won't say that one is harder than the other, but both present quite a challenging yet different kinds of tasks," he said.
(Also read: The story and future of Kaskus)
The whats and whys
Through Tororo, Ken hopes to bring quality baby products not just to big cities in Indonesia but also to the smaller and rural areas of the country where access to quality products is limited.
He also said that the existing baby e-commerce sites in Indonesia are focusing on fashion, luxury, and lifestyle whereas Tororo is dedicated to offering fundamental core baby products such as milk powder and diapers. He explains:
Tororo's long term goal isn't just sales; [we want] to increase the quality and standard of living of families by giving them access to wide range of products with a price that is as cheap as [buying] it in cities like Jakarta or Surabaya. […] We believe that online shops like us will become a game changer on [fulfilling] their needs.
Ken's thoughts remind me a bit of Jack Ma, the founder of e-commerce giant Alibaba Group. Jack Ma previously said that because infrastructure in China is poor, e-commerce sites have become the "main course" for many Chinese people to purchase products that they would otherwise have to travel long hours to big cities to get. The same situation is also seen in Indonesia. But perhaps e-commerce sites in Indonesia face greater logistical challenges as the nation is made up of over 17,000 islands.
Tororo's traction has been pretty decent so far, especially for a founder who is running two companies at the same time. In eight months, Ken said that his new baby e-commerce startup is currently seeing around 50,000 unique visitors and generating over $200,000 in transaction value each month. Tororo is also used by local Indonesian celebrities like Dian Sastro and Nia Ramadhani.
In the Indonesian baby e-commerce space, Tororo faces competition from Bilna.com, a local baby e-commerce startup that received seed funding in November last year.

Facebook Conversation
comments