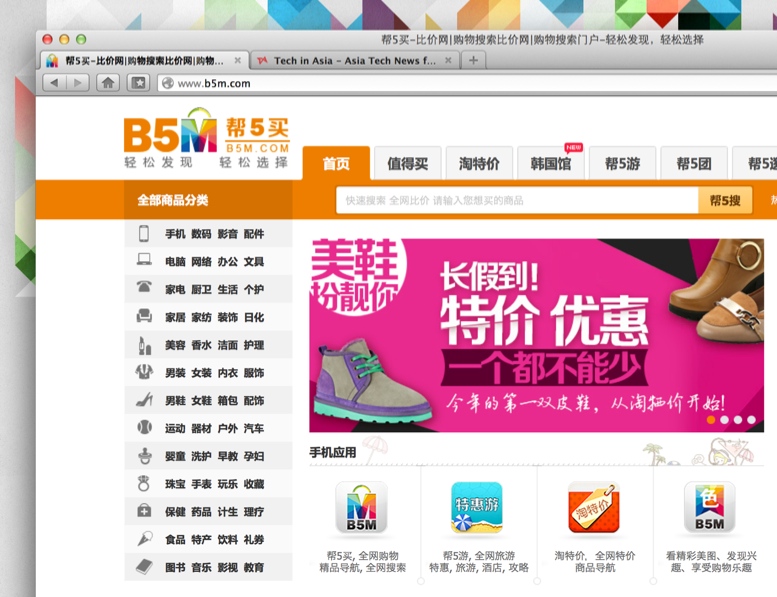 Chinese product search engine B5M has just followed up on its first major round of funding in early 2012 by announcing a series B investment worth $16 million. The money will boost the site as it tries to battle some big names in China's hot price comparison sector.
B5M's new funding is led by ClearVue Partners, with participation from previous backers, Oak Investment Partners, and some unknown angel investors.
The product search engine monetizes from referrals to various Chinese e-commerce sites that lead to purchases.
B5M – which is a pun on "help me buy" in Chinese – aims to "become a premier household brand for online shopping search," but it faces stiff competition from Chinese web giants in this space, such as Alibaba's eTao, and Netease's Huihui. Nonetheless, Ifty Ahmed, a general partner for Oak Investment Partners, is confident in B5M's growth, saying in today's announcement:
The current growth of B5M reminds me of Kayak in its early days, and I believe that it has the potential to achieve a similar outcome in China and become the search portal of choice for Chinese consumers.
The site now has three million unique visitors and 50 million page views per day, directing 30 million Chinese consumers monthly to approximately 6,000 e-commerce sites.
(Editing by Terence Lee)

Facebook Conversation
comments