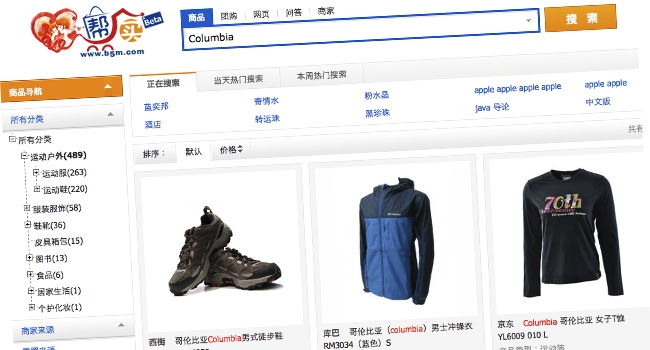 The Chinese product search engine B5M.com has attracted and secured a significant US$7.1 million in series A funding that was led by Oak Investment Partners and Giosis Holdings. It will strengthen the site in its aim to be a leading, independent product search engine in China.
B5M – which is a clever pun on 'help me buy' in Chinese – said, in an announcement to confirm its funding, that the cash would be used for website development, marketing, and ongoing innovation. The search collates product options from across the Chinese e-commerce space, and allows users a unified way of searching through them. A search for one brand label (pictured above) leads to numerous clothing options which then go off (pictured below) to an array of other online retailers. The company claims that its site has indexed 30 million products and reviews on hundreds of B2C malls.
The announcement notes that B5M will also get some expert guidance as part of this funding:
Allan Kwan, an industry veteran who led Yahoo! search in Asia Pacific, and Youngbae Ku, a successful entrepreneur who founded GMarket, which was acquired by eBay, will join B5M's board of directors representing Oak Investment Partners and Giosis Holdings, respectively.
The site's founder, Yeogirl Yun, said that the company's aim was to build "state-of-the-art search and data mining technologies to give Chinese consumers the power to choose the best new or used product or group-buying deal from over 200 business-to-consumer websites and 100 group-buying sites." The funding would allow the site to go "to the next level."
B5M is in a valuable niche as it's an independent product search engine that's able to claim that it's more trustworthy – and is more free to monetize – than similar services offered by major web players in China such as Alibaba's eTao.com, or Netease's upcoming refresh of Youdao. Indeed, last autumn eTao was under attack from many angles as numerous e-commerce sites said that it cannot be a fair and agnostic search engine since it's run by Alibaba, which also operates China's largest B2C and C2C online stores. That caused 360Buy to block eTao from searching its site, and then some other rivals such as Suning.com followed suit. But Alibaba is defiant, investing more money in eTao and saying that it doesn't favour the company's own e-commerce offerings such as Tmall.

Facebook Conversation
comments