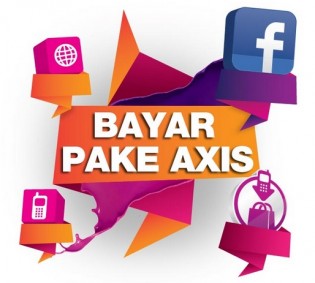 IndoTelko reported yesterday that Indonesian telco Axis has launched its e-payment gateway called "Bayar Pake Axis" (meaning "pay with Axis"). For now, users can associate their credit cards with a Axis number, and they will be able to purchase the telco's top-up phone credit easily through their phones. New users can register via the Axis website or its Facebook page.
In the near future, Axis' payment gateway will also be integrated with debit cards and more bank accounts. There is no explanation if Axis' payment gateway will let users purchase goods outside of Axis' network.
Meanwhile, another Indonesian telco, Telkom has recently announced that it too is going to launch a new payment gateway to its e-payment products next month. This feature will allow users to cash-out their mobile e-wallet through any ATM without having a bank account. The feature will be available on all Telkom's payment gateway products like T-Cash, Flexi Cash, Delima, and Mobile Cash.
Indonesia's payment systems are definitely getting more integrated these days. Just last month, Blackberry also launched its payment gateway BBM Money in Indonesia.
(Sources: IndoTelko #1 and #2)

Facebook Conversation
comments