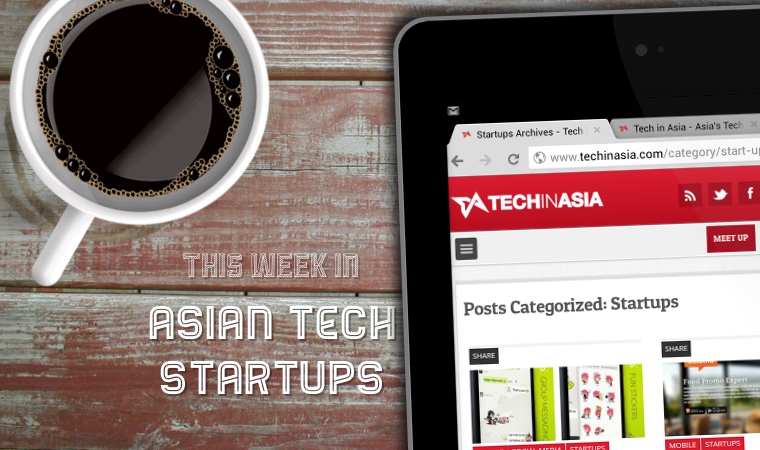 Here's our newest round-up of the featured startups on our site this week. As usual, for startup tips and story suggestions, feel free to email us. Alternatively, you can submit tips here and/or tell us about your startup here. Enjoy this week's list!
Philippines-based Payroll Hero offers a unique service that helps companies keep track of employees using biometric facial recognition to ensure workers are at work when they should be. This week, the startup introduced a brand new feature that factors in weather and commute distance analytics. Are your employees taking a day off just because of heavy rain?
---
One of the biggest bit of tech news in Asia this week- Singapore-based video site Viki has been acquired by Japan's e-commerce titan Rakuten. Though no acquisition price for Singapore-based Viki has been specified, sources in the industry indicate the video site to be worth $200 million.
---
DrawChat is a new mobile messenging app by the Japanese startup team that created the popular photo app DecoAlbum . This iPhone app brings doodling and handmade emoticons into Facebook Messenger.
---
Zship is a logistics company that focuses more on food delivery, and ships for sites like Eat.vn, Vietnammm.com, and Foodpanda. It also competes in the e-commerce sector, alongside rival logistics company, GHN.
---
Tiket is one of Indonesia's biggest hotel booking sites in addition to its train and plane ticket booking services. This week, the startup has announced a partnership with Australian search-and-compare website HotelsCombined to expand the latter's database of hotels and the former's access to new markets and inbound business.
---
Founded in May 2013, Ask Hanuman is a Thailand-based car insurance price comparison website It's initially focused on car insurance and will be expanded to products such as credit cards and loans soon.
---
Chinese online food ordering platform Daojia announced this week the completion of its series C financing, with Morningside Ventures and B2C e-commerce site Jingdong (formerly 360Buy) as the primary investors.
---
Taxi Hero is a brand new taxi booking app from Hong Kong, made for HK's commuters. The startup has an undisclosed amount of seed funding from angel investors and is working to get more of the city's cabbies on board.
---
Loan comparison website LoanStreet told us this week that it has funding from Star Accelerator, a startup fund and program initiated by media giant The Star.
---
Triptrus is an Indonesian online adventure tourism startup launched in beta phase in early July 2013. It offers customers an online marketplace for easy travel package search and a simple CRM (customer relation management) for those trip operators to create trips, connect to social media, register participants online, send invoices, and more.
---
Founded in 2006, Tuniu, a holiday tour booking site based in China, has revealed this that it's secured series D funding led by Singapore's Temasek and US-based DCM. Rather differently from most travel e-commerce companies in China that concentrate on hotel or flight bookings, Tuniu focuses on tour packages, cruises, driving holidays, daytrips, and company outings.
---
Reebonz is a luxury VIP e-store that offers short-duration online private sales. It hails from Singapore, but this week we looked into its business in Thailand.
---
Sribu is an Indonesia-based startup that offers crowdsourced designs. The startup recently won an INAICTA 2013 award in the e-commerce category.
---
Launched just a week ago, Indonesia's Qraved is a brand new social food network that aims to be "a smart, social dining directory, helping users discover great places to dine at quickly and easily" from the web. The startup announced this week that it has raised seed funding from Rebright Partners, 500 Startups, and Skype co-founder Toivo Annus.
---
SmartBike and SmartLock are made by a team of engineers out of a Vietnamese company called Digi-Gps. The SmartLock is a nifty Bluetooth-enabled device that basically locks your motorbike if you walk more than 10 meters away from it. Also, it can send a text message to your phone if anyone touches or tries to steal your motorbike. As for the SmartBike, the larger device takes all the basic features of the Bluetooth-y SmartLock and adds a SIM card to the equation.
---
Launched in 2007, OLX India is an online classifieds site with surprising statistics – its mobile traffic has just surpassed its desktop-based web traffic. Aside from general classifieds ads, OLX India is also used for some localized C2C selling.
---
Launched this May, Singapore-based Lessworkmorelove is a brand new online dating service that aims to help singles effectively break the ice, get offline, and go on dates.
---
China's Kawo takes the content from a brand's western social media pages – Facebook and Twitter – and puts it onto Chinese social media like Weibo and Renren. The service is more than just translation, with its process being half automated, half human.
---
MultiGlove is a multi-sensor glove that can control objects in three-dimensional space invented by a young team of undergraduates from Vietnam. The MultiGlove team is looking to release the device to the market by mid next year and currently relies on funding and support from their university.
---
Startups in events/incubators
---
Related startup stories
Events
This upcoming November 21 and 22, we will be bringing our signature Startup Asia Conference back to Jakarta, Indonesia. To be held at Plaza Bapindo, the bi-annual Startup Asia conference will feature promising startups from around the region, a revamped Startup Arena competition, a 24-hour long hackathon, and, of course, a huge line-up of interesting industry speakers. Check out the official conference site for more details.
---
Like RSS? There's always our Asia startups RSS feed!

Facebook Conversation
comments