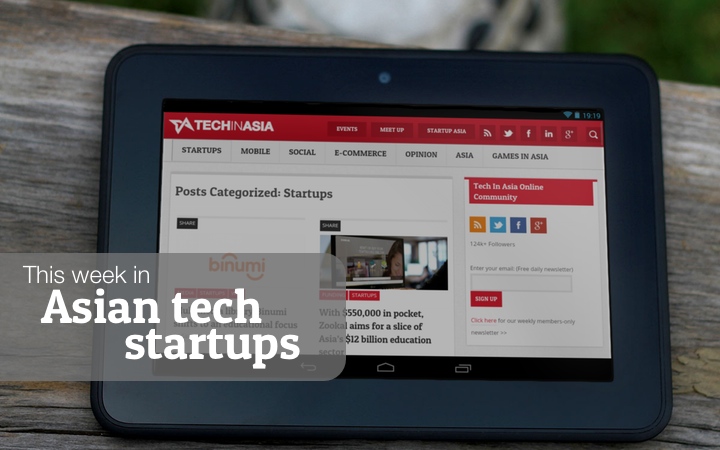 Here's our newest round-up of the featured startups on our site this week. As usual, for startup tips and story suggestions, feel free to email us or tell us about your startup here. Any juicy news tips go here. Enjoy this week's list!
Launched back in 2010, daily deals site Evoucher has since partnered with more than 3,000 merchants in Indonesia, in categories like food and beverages, travel, and healthcare products.
Timed to coincide with its third anniversary, the startup launched EVstore which is a more conventional e-commerce site.
---
Petcube is currently part of the newest batch at Haxlr8r, a startup incubator in China. The San Francisco startup's product is a little black box that does something adorable – it lets you remotely monitor your pets, and you can even play with them by directing a laser-pointer via your smartphone.
Just under a week after launching a crowdfunding campaign on Kickstarter, Petcube scampered past its $100,000 funding goal.
---
Ohdio.fm, an Indonesian music-streaming site, has launched Radio Artis (meaning "artist's radio") and is available on both desktop and mobile. With this new feature, listeners don't have to spend their time downloading and instead can stream preset channels.
---
Singapore-based Sprooki is a location-based mobile commerce service that lets retail shops send targeted messages and promotions to potential customers who are passing by via their smartphones.
The startup has now expanded into Philippines and users will soon be notified about promotions on their smartphones whenever they're in the vicinity of shopping malls – and they'll receive vouchers on their mobile devices and that are redeemable in-store.
---
Phlo, created by the founders of Cynapse, is an iOS and Mac app that lets users enter a search query and search a wide range of search engines and websites.
---
Focusing on the Jakarta and Bali market, Indotable is an online restaurant booking reservation and online social event promotion service that helps people gather and talk over food.
---
Zookal, which provides digital textbooks, course notes, online tutoring, and internship opportunities, announced this week that it has raised a round of funding.
With the fresh investment, the startup will focus its initial expansion efforts on both Singapore and Malaysia, since joint ventures have already been set up in both countries
---
Indonesia's JerukNipis is a gadget news and e-commerce site that's well known locally and is one of the few trusted online sellers for exclusive gadget pre-orders.
The startup has plans to extend its presence into the offline world by opening a service center for almost all gadget brands under one roof.
---
Verbase is a new player in the general search engine space which uses Yahoo's API to gather results, and sorts them using a custom algorithm created by founder Antoine Sorel.
It also features a few other perks to lure in users. No advertisements appear in the search results right now, although they will eventually along the right side of the page.
---
Launched in beta this week, Zocko is a new startup that hopes to fill the gap between brands that are willing to pay for endorsements and the 'buzzers' that might be willing to make a buck or two off of their social media popularity.
Zocko is actually a startup from Barcelona as well as a part of Creative HotHouse, a Singapore-based accelerator for software startups in Southeast Asia.
---
Zoom is an app-connected, self-drive car rental service that currently operates only in Bangalore. The startup revealed this week that is has received a round of seed funding led by New York-based Empire Angels, with some participation by earlier investors.
---
Developed by Singapore startup Rainmaker Labs and launched in May this year, ShopGuru is a customer loyalty app that knows exactly when you've walked into a store, and rewards you simply for doing so.
---
HipVan is a design-oriented e-commerce startup with presences in both Singapore and Malaysia. The startup has just confirmed its list of investors including Singaporean celebrity Jade Seah, well-known local entrepreneur Darius Cheung, and newly formed venture capital firm Silicon Straits.
---
Beanstalk.PH is an e-commerce site that only carries products made by community-minded merchants and entrepreneurs. The startup is the product of a group of students working on a thesis together.
---
Stayzilla is a cheap hotel booking site from India that lets users research and reserve from a database of 6,000 cheap hotels in more than 750 cities across India. The startup received an undisclosed round of funding led by Matrix Partners India and Indian Angel Network (IAN) this week.
---
Built by Adways Indonesia, Social Gate is a mobile app that calls itself the first "TV consumer social networking app" in Southeast Asia.
Currently, it serves as an app for viewers of free cable TV channel Hello! Japan, which broadcasts in Singapore.
---
Malaysia-based fashion e-commerce startup SEA Citizen helps to bridge the seasonal delay between the runways in Europe and the high streets of Southeast Asia by redesigning clothing showcased at major fashion shows using locally-sourced fabrics in Southeast Asia.
---
Startup lists and events
---
Related startup stories
---
Events
This upcoming November 21 and 22, we will be bringing our signature Startup Asia Conference back to Jakarta, Indonesia. To be held at Plaza Bapindo, the bi-annual Startup Asia conference will feature promising startups from around the region, a revamped Startup Arena competition, a 24-hour long hackathon, and, of course, a huge line-up of interesting industry speakers. Check out the official conference site for more details.
---
Like RSS? There's always our Asia startups RSS feed!

Facebook Conversation
comments