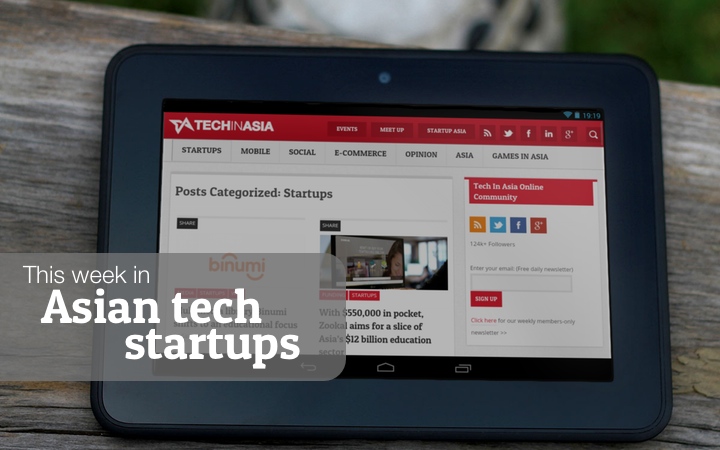 Here's our newest round-up of the featured startups on our site this week. As usual, for startup tips and story suggestions, feel free to email us or tell us about your startup here. Any juicy news tips go here. Enjoy this week's list!
Launched last week, Japan's iSitter is an online marketplace that helps you find a babysitter. The startup aims to take a slice of what it believes is a $210 million per year babysitting market in Japan.
---
TicketGoose is an online bus ticketing website from India, and a strong rival of another similar local service provider RedBus. It got fresh funding this week to help grow its business across the country.
---
Indonesia's biggest blog advertising network, Idblognetwork, announced this week that it will be partnering with Japan-based Freakout to launch a local Demand Side Platform (DSP) in Indonesia called Idblognetwork DSP (IDDSP). The new interface allows digital ad buyers to manage campaigns with multiple Ad Exchanges and Supply Side Platforms (SSPs) like DoubleClick Ad Exchange and OpenX using real-time bidding technology.
---
Started in 2007, P1 used to be invite-only and catered solely to people who identify themselves by their high social status. But now it's opening up a bit and has – a bit late to the game – pivoted to mobile.
---
Freelancerviet.vn originally started out as a Facebook group in October 2010, gathering fellow freelancers together to share their experiences and potential jobs. Now, it has fully launched as a site with a sleek interface that allows businesses to connect with freelancers.
---
Built by an ex-Googler, Fluentlee is a pay-to-play language learning site that's like Craigslist and Skype combined, enabling real-time connections between learners and experts.
---
Crowdbaron, a Hong Kong-based startup that wants to make it easier for people to make partial investments in real estate, has announced this week that it secured funding from Grow VC Group to help in its expansion.
---
DropMySite is a Singapore-based startup that provides cloud solutions for website and email backups. The startup recently had a change in CEO and has also announced that it will launch Dropmymobile, a backup service for Android smartphones.
---
Beijing-based startup Wanbiancheng is a website for complete novices to learn the basics of mobile development. The model is similar to Treehouse or Codeschool in the west.
---
A South Korean dating app is now taking its match-making skills global under a new name in the form of the newly-launched Hey app. Similar to Thailand's NoonSwoon, Hey also provides users with daily matches.
---
Taiwan's Bounty Hunter is an online platform that connects brands and organizations with creative talent through competitive contests. The startup has been picked to join 500 Startups, the accelerator program founded by Paypal alum and "super angel investor" Dave McClure.
---
China's WorkingIM is a brand new online team collaboration tool where employees work on projects together while chatting in groups or privately, viewing attachments, and managing to-do lists.
---
Founded by Grupara and InHouse VC co-founders, Blinc is a brand new shopping loyalty startup that – once it fully launches – aims to simplify the steps for people to use digital loyalty programs in the country.
---
Startup lists
---
Related startup stories
---
Events
This upcoming November 21 and 22, we will be bringing our signature Startup Asia Conference back to Jakarta, Indonesia. To be held at Plaza Bapindo, the bi-annual Startup Asia conference will feature promising startups from around the region, a revamped Startup Arena competition, a 24-hour long hackathon, and, of course, a huge line-up of interesting industry speakers. Check out the official conference site for more details.
---
Like RSS? There's always our Asia startups RSS feed!

Facebook Conversation
comments