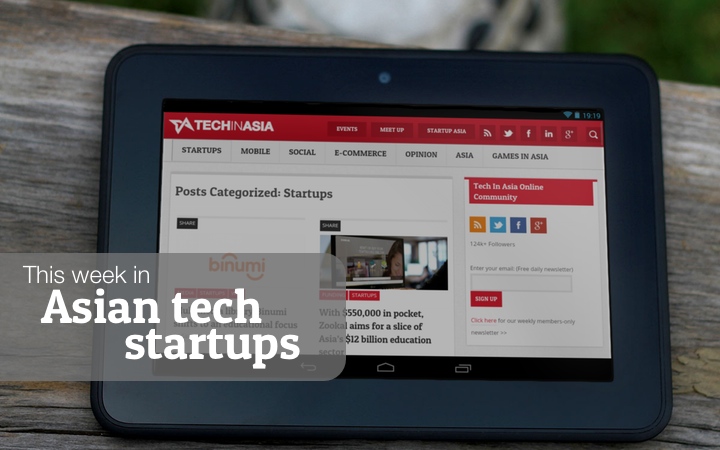 Here's our newest round-up of the featured startups on our site this week. As usual, for startup tips and story suggestions, feel free to email us or tell us about your startup here. Any juicy news tips go here. Enjoy this week's list!
Founded by Kaskus CEO Ken Dean Lawadinata, Tororo is an e-commerce site that sells baby products. The site has been in operation since late February and has over 30 employees.
---
Noonswoon is an online dating app from Thailand that has been in the spotlight lately. The startup is revealed to be the first startup partner of Thai telco AIS. Noonswoon also recently raised funding from various investors including 500 Startups.
---
Abraresto is a food discovery site built by the same team behind Singapore-based restaurant booking site Abratable. It allows users to browse venues based on the kinds of venue, cuisine, and location by mall and neighborhood. Of course, it has a lot of competition in this sector.
---
Launched last month, Cebu-based Micab is another taxi-booking app that aims to help the commuting public get easy access to a taxi ride. Apart from being the sole taxi hailing app in the region, Micab distinguishes itself by letting passengers use either their internet connection or SMS to hail a cab through the app.
---
Teamie is a cloud-based collaborative learning network that allows educators and students to interact in a fun way. The startup revealed this week that it's now making a profit after acquiring half a million users.
The startup was the winner of our Startup Arena Singapore 2012.
---
IndoTrading is an enterprise online marketplace that was launched over a year ago and which allows users to look for a broad range of Indonesian small businesses.
Just this week, the startup announced that it secured a seed funding from Rebright Partners.
---
Gush Media is a marketplace where brands can find local social media 'influencers' to promote their products. The startup is developed by Singapore-based social media marketing startup Gushcloud and global branded content provider Newcast.
---
Tripoto is an online platform that lets global travelers share their travel experience and discover new places. It serves as a crowdsourced space for travel stories from around the world, with content such as maps, pictures, itineraries, and trip overviews.
---
Aftershock PC is a Singapore-based hardware startup that offers customized gaming computers for consumers. Apart from being featured countless times in Singapore's local media, Aftershock PC's machines have also won awards from Digital Life and Hardware Zone.
---
BeautyTreats is one of the first startups testing the Indonesian market for monthly beauty box subscription. This week it diversified by adding beauty products e-commerce site as well.
---
Vietnammm is one of Vietnam's online food delivery services and is one of the key online services in Saigon. The startup has now been acquired by Holland's Takeaway.com, one of the biggest food delivery websites in the world.
---
Tokopedia is one of Indonesia's top e-stores. It has finally revealed its monetization plan by introducing the Gold Merchant program where store owners can subscribe to get special features.
---
GigOut is an iPhone app that aggregates concert and event listings in Singapore, Malaysia, Indonesia, the Philippines and Hong Kong – and lets you buy tickets.
---
Malaysia-based iMoney is a free online personal finance finer that helps users make comparisons between loans, credit cars, and other banking services. The startup got series A funding round this week.
---
Launched last month, India's CricOut is a social network iOS app for cricket fans across the world. Users are able to communicate with each other, and experts can commentate on matches using the app.
---
Milky Way is an online fashion e-commerce site that offers maternity and breastfeeding clothes, designed and mostly manufactured in Singapore. The startup also has a sister site in the UK.
---
Mailbird is a PC email app from Indonesia that aims to make sending emails a more productive experience.
---
Malaysia's PlateCulture is like an Airbnb for food, allowing users to get home-cooked meals from local cooks. The site has served over 200 meals since launch in July this year, but the user-base is growing fast. Read our interview with the female founders here.
---
Startup lists
---
Related startup stories
---
Events
This upcoming November 21 and 22, we will be bringing our signature Startup Asia Conference back to Jakarta, Indonesia. To be held at Plaza Bapindo, the bi-annual Startup Asia conference will feature promising startups from around the region, a revamped Startup Arena competition, a 24-hour long hackathon, and, of course, a huge line-up of interesting industry speakers. Check out the official conference site for more details.
---
Like RSS? There's always our Asia startups RSS feed!

Facebook Conversation
comments