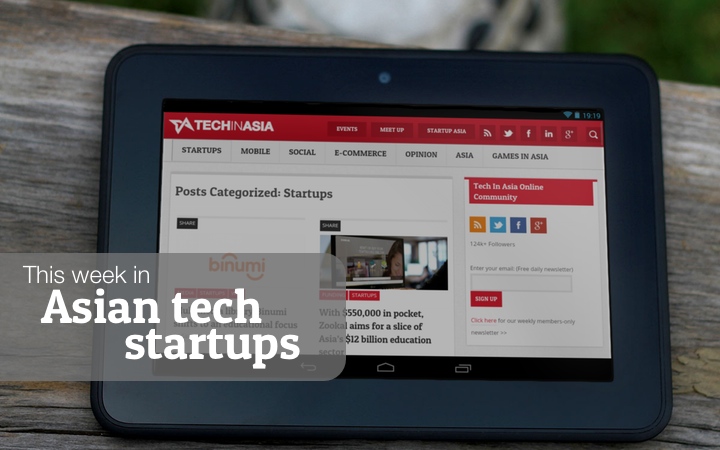 Here's our newest round-up of the featured startups on our site this week. As usual, for startup tips and story suggestions, feel free to email us or tell us about your startup here. Any juicy news tips go here. Enjoy this week's list!
India-based Pokkt is a marketplace where consumers pay for digital content with their time. After graduating as part of the first batch from Mumbai-based GSF Accelerator, it has raised a seed round of an undisclosed amount from Singapore venture fund Jungle Ventures and Samir Bangara, former managing director of digital at Disney UTV.
---
Fastacash enables users to send money and eventually digital coupons, mobile credits, and other tokens of value within Facebook. Fastacash has already launched in the United Kingdom and plans to introduce the service to Indonesia and Russia by the end of the year, through partnerships local payment service provider and system.
The startup has also recently raised a huge round of investment from Singapore-based investors Jungle Ventures and SPRING SEEDS Capital, as well as Hong Kong's Funding the Future (FTF).
---
Malaysia's PlateCulture is like an Airbnb for food, allowing users to be able to eat home-cooked meals from local cooks. The site has served over 200 meals since launch in July this year, but the user base is growing fast.
---
Currently still in beta, Looloo is a venue finder app from Philippines which helps people to discover new and interesting spots in Metro Manila and around the Philippines. It provides options for people to discover new dining, entertainment, nightlife, health and beauty, as well as travel destinations.
The startup recently rolled out a new 'special' feature where users can find promos and treats from partner establishments.
---
SlideStory is made by Japanese startup Nanameue, which is an iPhone app that enables users to create and share photo slideshows which is viewable as a 1280×720 HD video on Facebook.
---
Launched this Friday, Spottly functions like a 'Pinterest for places' and wants to extend the curation-as-content principle into the realm of travel with its new iOS app. In April, the company received funding from 500 Startups's Beijing branch, led by Rui Ma.
---
Currently still in beta, Beijing-based startup Grata developed a chat app that can be used to communicate directly with travel agents, tour guides, and hotel staff. The app also comes along with a suite of tools for people in the travel industry to recommend, book, and arrange transport to destinations.
---
Tokyo-based startup Conyac is a platform for businesses to crowdsource and recruit translators for short projects and has just raised another round of seed funding this week.
---
Collabspot was part of the second batch of JFDI graduates. The startup found a niche despite a field with plenty of customer relationship management tools (CRM) that work within Gmail by featuring integration with Highrise and SugarCRM, which are popular web-based CRM tools targeted at small and medium businesses.
---
GrabTaxi is a taxi mobile app booking service from the Malaysian-based startup who created MyTeksi. The startup has been serving users in Malaysia, Philippines, Thailand, and is now available in Singapore on iOS and Android.
---
Paktor is another one of Asia's growing list of dating apps that focuses on three features: location, usability, and anonymity. Only a month after launching in Thailand, it now lands in Vietnam, Philippines, Hong Kong, Malaysia, Taiwan, South Korea and India.
---
Taipei-based BeLuvv launched the Guardian, a wearable device and app designed to monitor the location of youngsters and has the ability to warn parents via a notification on their mobile device if the child wanders off too far.
---
Gurgaon-based Internshala is an online internship listing site which receives 150,000 applications per year, making it the most popular internship-related website in India, according to founder Sarvesh Madhu.
---
Singapore-based startup iCarsClub is an online peer-to-peer car rental service platform which recently announced its launch in China's capital city.
---
Taksilog is a Android mobile app that is not about hailing cabs, but instead, enables users log their taxi riding experience and share it with their family and friends.
---
A clone of US' Legacy.com, Shradhanjali (Hindi for 'tribute') lets users create memorial webpages for those who are no longer here to make their own Facebook accounts.
---
Startup lists and events
---
Related startup stories
---
Events
This upcoming November 21 and 22, we will be bringing our signature Startup Asia Conference back to Jakarta, Indonesia. To be held at Plaza Bapindo, the bi-annual Startup Asia conference will feature promising startups from around the region, a revamped Startup Arena competition, a 24-hour long hackathon, and, of course, a huge line-up of interesting industry speakers. Check out the official conference site for more details.
---
Like RSS? There's always our Asia startups RSS feed!

Facebook Conversation
comments