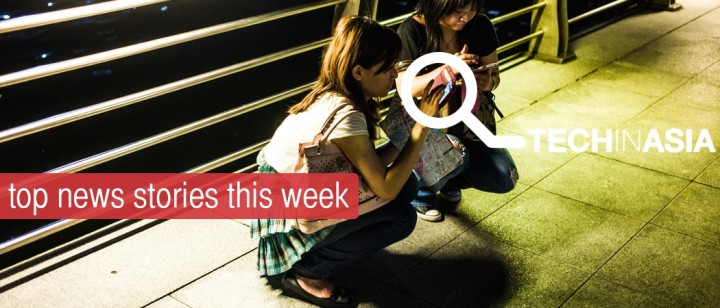 The journalism gods are looking down kindly upon us. The whole nation of Singapore is captivated by the actions of one hacktivist, China introduces new rules that might change the fate of startups, and someone thinks Taiwan's startup scene is 'diseased'. Here's our selection for the week:
The whole nation was captivated when a hacker who calls himself The Messiah went on YouTube to declare his intentions. People now want to know how this will end: Will the hacker get caught? How far will The Messiah go in spreading his 'gospel'? Who is he? You can't make this stuff up.
---
Vanessa: This is pretty overwhelming – a piece of news most of us Singaporeans have been watching intently the past couple of days. Who exactly is The Messiah? I'm looking forward to November 5.
Dewi: This is a shocking news since The Messiah was able to hack a famous media blog. Just like Vanessa, I am also curious to find out who is The Messiah and is he working alone? Irene Tham must be having a hard time right now.
---
I've been hearing a lot from game companies that games in Taiwan enjoy a high average revenue per user (ARPU). This App Annie chart just proved the point. Google Play revenue in Taiwan isn't just above average but comparable to the some of the biggest gaming market in the world like Japan and South Korea. Fascinating.
---
Paul: It isn't very often I get the chance to praise the Chinese government for doing something right. Removing minimum capital requirements for startups is a step in the right direction. On the other hand, it could have unintended negative consequences for smaller cities.
Minh: If China loosens its restrictions on creating a startup, the ecosystem could really blossom. Talking to Chinese industry leaders at InnovationWorks and other sources in China, I've learned that founding a startup in China is still daunting. Startups are not treated as startups, but as SMEs and the ecosystem does not make it easy for money to flow around. This could be one step in the right direction for China.
---
Remember the Longtop scandal? The short-seller attacks on Qihoo? All those fears and wild accusations are back, but the new target this time is Chinese anti-virus company NQ.
---
Kai-fu Lee reopens a serious dialogue that many in Taiwan are probably tired of hearing about. But that doesn't mean his points aren't worth pondering.
---
There's still three months left until we see who'd be the world leader by the end of the year. Will Samsung be overthrown? Did Apple just got a slow Q3 number because it didn't launch any new phone product in the quarter? It's always exciting to see how the big players compete. However, I still predict Samsung will hold the number one spot as Samsung's shipment in one quarter is higher than Apple, LG and Nokia combined.
---
With the large number of homegrown smartphones in the Asian market, these hopes can possibly happen. While Samsung is still leading – and can still possibly lead in the next months or years – things can always quickly shift. A huge number of consumers in Asia Pacific are buying these cheap Android smartphones. Apart from this list, China's Huawei is already third in global shipments as of Q3. So it's interesting will see if tides will eventually turn for Apple and Samsung.
---
There you go, Path is popular especially in Indonesia as the country holds the biggest active users for the app. Let's see if Path will make some local touches to cater to this important market in the future.
---
For other ways of reading us, try our tailored RSS feeds, or find us on Flipboard.

Facebook Conversation
comments