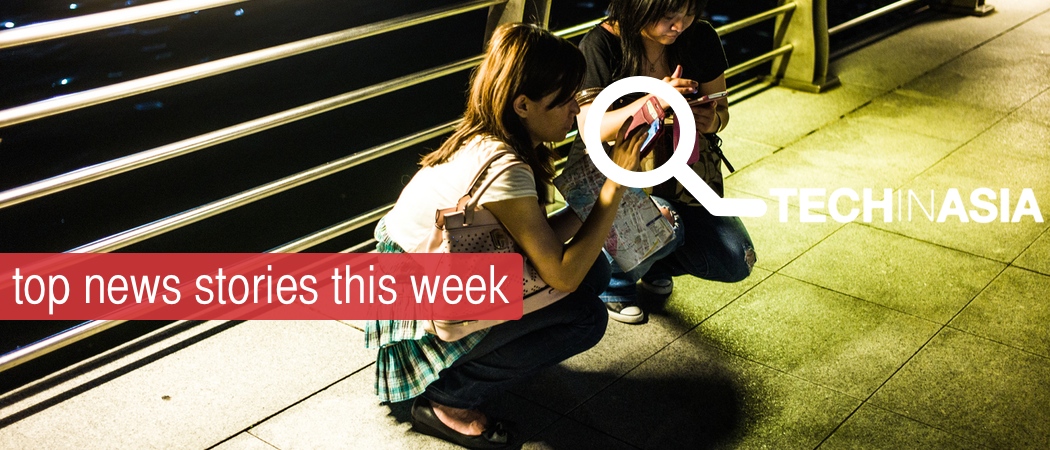 Our team continues to grow this week with Terence and Gwen from SGEntrepreneurs now on board! But that's not the only big acquisition this week. In addition, Xiaomi and Apple are about to have a showdown in China, big Facebook growth in Thailand, and the government is training game devs in the Philippines. Enjoy!
---
Rakuten's $200 million acquisition has to be the news of the week. We rarely hear about acquisitions of such size in Southeast Asia. So that really has to bethe news. If you are interested, read my speculation on why Rakuten bought Viki and what it will likely to buy next. Terence Lee also wrote an interesting piece on what this deal means for Singapore and the Southeast Asia startup ecosystem.
---
Paul: So many firsts for Apple this week: dual press conferences in Beijing and California, two versions of the iPhone to be announced in one day, and the cheaper one to go on sale in China the same time as the rest of the world. These rumors were seconded later in the week, right before more allegations of labor violations at a factory in Jiangsu Province.
Phoebe: The rumors of Apple releasing a "low-end" phone is already a first since we've seen iPhones in the market. And coupling that with a simultaneous release happening both in US and in China means two firsts for Apple this year. I'm wondering if this is part of its efforts to push Apple products in China and also in Asia. And if so, if this is going to work for Apple this time.
---
Steven: Xiaomi is aiming to sell 20 million of its Android-based smartphones in 2013. At Thursday's launch event, the young Chinese gadget-maker unveiled its new flagship phone, the Mi3. I also wonder how many of Xiaomi's brand new smart TV models it can sell.
Charlie: With all the iPhone news and rumors swirling, it's hard to think about a "small" player like Xiaomi, but I think they're going to pose Apple an even more serious threat than they already do as Apple destroys its luxury branding in China by entering the cheap smartphone market. But can Apple actually compete there? We'll see, but with offerings like this, Xiaomi is going to be tough to beat.
---
I find this number mind-blowing! It's quite impressive enough that Bangkok is the city with the most Facebook users in the world. Seeing this Facebook growth rate makes me wonder when Facebook will actually open an office in Thailand. It's such a big opportunity for the company to seize this large audience and turn it into ad benefits.
---
Studying ICT-related courses in the Philippines may tend to be common for college students, but aside from not everyone graduating, there is also the difficulty of finding related jobs. This 60-day game development course will equip Filipinos with the skills and experience to be part of the game development industry. A similar project was held in Zamboanga City a month ago, and I am glad the government continues to support the game development industry.
---
Roy: This is definitely one of the juiciest bits of news of the week, and one that shocks many tech enthusiasts in this region. We are excited to have two new powerhouse team members on board to do more good in this tech industry. Tell me you agree with me.
Minh: I'm definitely really happy to welcome Gwen and Terence from SGE. But at the end of the day, this acquisition means we're going to start adding more news on Singapore. Singapore, which is at the heart of Southeast Asia's innovation and startup universe, definitely needs more attention from us.
Dewi: I agree with Roy. These two incredible people have built SGE to become a reputable media source with great news coming mostly from Singapore. Adding more content from Singapore means fresh news will be covered from every Asian country everyday! Last but not least, I am happy to have Gwen and Terence as part of our family.
Vanessa: I've always admired Terence for his work, and have been grinning from ear to ear since the announcement of the acquisition. Gwen is also a senior at the NUS Overseas Colleges that I graduated from, which makes this entire acquisition something even closer to the heart. AtTech in Asia, we derive much joy from serving our lovely audience, striving to deliver even better content than yesterday. With our two new members in the family, I'm pretty sure we can better serve you, with greater content and products to help build the Asia startup and technology ecosystem. To a fantastic future ahead!
---
Thanks for dropping by again this week, folks! For other ways of reading us, perhaps try our tailored RSS feeds, or find us within Flipboard.

Facebook Conversation
comments