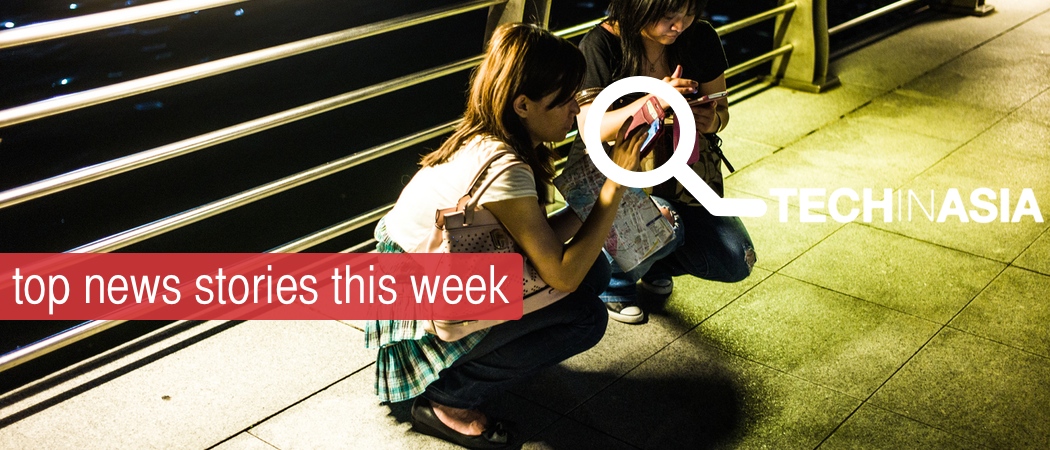 The wires kept us busy as ever this week, with stories coming from Foxconn, Rakuten, Alibaba, and others. Here are our picks for the top stories this week:
Terence: Foxconn is once again caught for exploitative labor practices, this time involving an unlikely contractor — a school. It makes one wonder how deep the rabbit hole goes, and whether there are other internship programs of a similar nature in China.
Dewi: This so called "internship" program between Foxconn and Xi'an Institute of Technology is suspicious, since this is their second case together.
---
It's interesting Tumblr is localizing and Asianizing its platform. Being under Yahoo now, Tumblr definitely has potential to make a sizeable footprint in Asia. Following the path of Facebook and Twitter, who translated their platform to Asian languages years ago, Tumblr now has Korean language support (in addition to Japanese, which it has had for some time). It will be interesting to see how fast the company rolls out other languages, especially for more diverse countries like Indonesia.
---
Asia's tech giants that can't find the talent they need locally are reaping the fruits of Silicon Valley startups to stay ahead of the competition. Samsung is but one example.
---
Despite having a population of over 50 million people, Myanmar isn't a proven market, yet. It is predicted that Myanmar will only see six million smartphone users by the end 2017, and 3G will only be available next year. Given Rocket Internets track record for making decisions on data, the decision to move in to Myanmar could be perceived by some as premature. It is an opportunistic move and a good one, I believe.
---
Coursera has potential to truly disrupt the American higher education space, providing a means for ambitious people of all ages to obtain certification in a skill set without having to pay for expensive degrees. Granted, it will take a while before its impact is measurable, and this is even more so the case as the for-profit firm ventures into China. With a culture accustomed to degree-seeking and an oversupply of skilled college graduates, the last thing a diaosi needs is another guy with the same skill set as him. But while Coursera might not be able to drastically alter higher education the way it could (and should) in the US, it can certainly provide education to those that would otherwise have no access to one – and that, of course, is tremendous.
---
Alibaba already has very strong ties with Yahoo and now it's getting even more involved in the American market with its recent investment in ShopRunner. Just earlier this week Samsung just announced its interest in acquiring Valley companies like Atari. These two isolated events indicate a keen interest from big Asian companies into the talent and markets of Anerica. After all, who can resist? It's the biggest economy in the world.
---
I'm going for the fun one this week with Line having its own characters printed on debit cards in Thailand. This will definitely help boost the app's popularity there. Rivals beware?
---
Rakuten's Spanish website actually went live a few months ago, contrary to the impression that its press release this week might have given. Given that the summer months in Europe are usually slow where everyone scoots off for holidays by the beach, they were probably testing the market and finetuning their site. Rakuten has made many e-commerce acquisitions over the last few years in Europe: in the UK, France and Germany; they also have an Austrian site. With this new site targeted at Spain's shoppers – where online shopping has been seeing a high growth rate, will we see Italy next? Where online shopping has also seen much growth?
Vanessa: The stats given are pretty useful, especially for those who are looking to reach out to potential customers from specific cities in various regions. I thought it was also interesting to note that while Google is the usual site to go to for search, folks in Japan turn to Yahoo as their gateway to more information on the world wide web.
Phoebe: I totally agree with my colleague Vanessa. This trend – where the Asian region has more online population than the Western countries – is a sign for businesses. It's an opportunity that can be tapped, especially by startups in the region. Also a sign of an upcoming growth here.
---
For other ways of reading us, try our tailored RSS feeds, or find us on Flipboard.

Facebook Conversation
comments