This post is a part of our coverage of Startups in Asia (Singapore), Penn Olson's first tech conference. Our full coverage of the event can be found here, for our RSS feed, click here.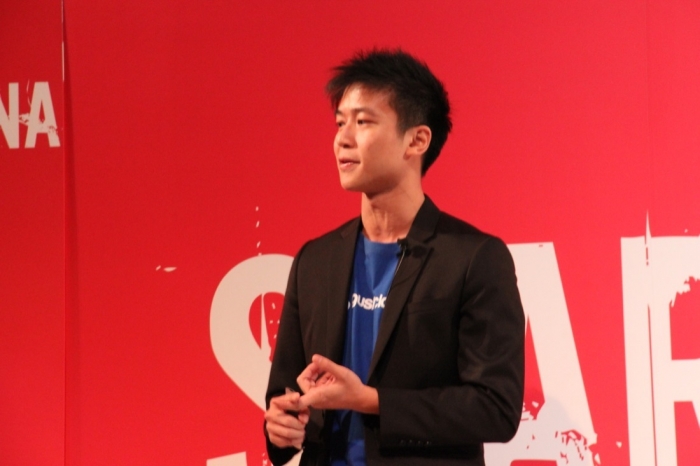 Presenting at our Startups in Asia event in Singapore today, Gushcloud pitched a social media marketing solution for businesses (in particular, app developers) to help raise awareness of their brand online. The startup's co-founder Vincent Ha identified a number of 'pain points' that currently exist in online marketing: 1) Facebook ads can be costly, 2) Google ads can be slow, 3) Banner ads often suffer from users' 'banner blindness.
But what Singapore-based Gushcloud proposes to do is mobilize users to share, tweet, blog, and even download — perform any number of tasks depending on the campaign requirements. It's a rewards-based system where the advertising budget goes towards rewarding the users. Advertisers can manage everything from their web dashboard, filter their targeted audience demographics, and control how much they want to spend on a certain promotion. Brands also dictate how much Gushers are paid, and the company says that in Singapore so far, they are using Paypal and bank transfers.
The startup, which launched back in October, says that there have been over $70,000 spent on Gushcloud campaigns so far. There are currently over 27,000 thousand users with a new 'gusher' joining up every three minutes.
The judges raised the ethics of pay-per-post, and Vincent noted that Gushcloud does not dictate what they say about brands, or how they rate them. Judge Benjamin Joffe pointed out that there is a similar business in Japan that is making tons of money doing this, which could be a good sign for Gushcloud.
Vincent is joined by his CTO, Bryan Chao, and his CMO Althea Lim — and together they lead a team of ten "bent on global domination." While I have some reservations personally about this whole social marketing area in general, it will be interesting to see how both users and advertisers alike respond to a solution like Gushcloud.

Facebook Conversation
comments