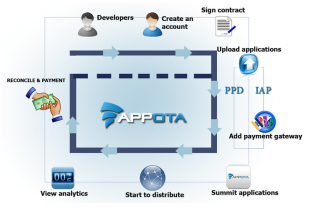 In a developing informal economy like Vietnam, bootlegging and cracking is rampant. Patents and copyrights aren't respected. Almost every iPhone I've seen is jailbroken or illegally unlocked from a telco. Stores that sell iPhones, authorized and unauthorized resellers alike, preload them with apps from bootlegged accounts. People have grown accustomed to not paying for apps.
This is where Appota comes in. The mobile app delivery platform allows developers to ship their products to customers as well as get paid for them.
The company, which was officially founded in 2011, came from the idea of creating an app distributor. Mr. Tuan Anh, current CEO and main founder since 2008, even had the original idea for a such an app store way back in 2004. He explains:
It all came from the time when I opened a mobile phone service shop. I would repair a lot of mobile phones. And customers always needed software, so I made a website to store the files and firmware. I unlocked lots of iPhones. The idea comes from this space in the market. At the beginning, we had six founders. Today, we have eight co-founders and 60 staff total, 30 of them are developers.
Basically, Appota is a B2B2C model, working as a medium between developers and smartphone users. It makes it easier for mobile phone vendors to choose what apps go into both Android and iOS phones, which then get shipped to customers. Of course, customers can download apps manually as well, but the main value that Appota adds is as a recommendation engine.
Serving 7 million smartphones
So far, Appota serves over seven million smartphone users in Vietnam, 4.5 million on iOS and 2.5 million on Android. It provides an SDK, a payment system, a system for users to login and check out apps, and a social system for developers.
Thus Appota solves two problems at the same time. Getting the best apps for users and ensuring developers get paid. Today, there are over 2,000 developers using the platform since its launch eight months ago.
Tuan Anh says that Appota prevents stealing through its SDK, which also ships advertisements on top of free apps for developers to monetize.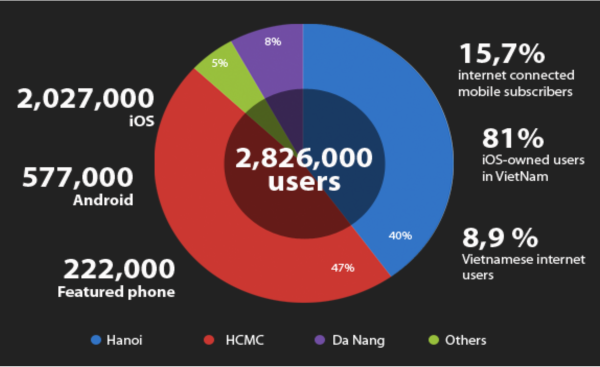 With Appota's model and reach, they have the most in-depth perspective on the mobile app market in Vietnam. So I had to ask Tuan Anh, what does he think about the mobile market in Vietnam? He replied:
It has a lot of potential, but it is very hard to join the market. Telcos take a lot of the profit, and there are no regulations to manage this. It hurts growth and innovation.
To make this work, it must be easy to pay for apps. Tuan Anh explains:
We've developed a system whereby customers can pay by SMS, prepaid card, WAP-charging card, or game cards. So far we've already made millions of transactions.
But the CEO made no comment on the percentage that Appota takes as a cut on app sales, or exact numbers of sale, but he says they're still growing fast. The startup has already got series A funding of under $1 million and is now seeking the next round. The team plans to be profitable by mid next year.
So what's next for Appota?
We will be releasing our own apps that help to deliver other apps. Similar to GREE. We're also officially opening up a store in Singapore.
With Appota's success here in Vietnam, they're quickly looking to go global. Appota recently won an award for top startup of the year at the 2012 Startup Retrospective we looked at earlier this year. So watch out Appsfire and others, here comes Appota.

Facebook Conversation
comments