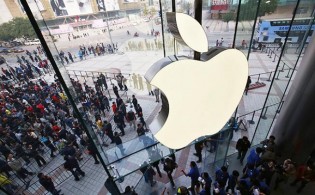 Apple (NASDAQ:AAPL) CEO Tim Cook spoke about the firm's Q2 earnings while Asia slept. One interesting tidbit is that Apple's China revenues fell 14 percent from the same time last year to $4.6 billion in that quarter; that number is a 43 percent drop from Q1 2013. It covers the Greater China area: the mainland, Hong Kong, and Taiwan.
Apple only started giving quarterly breakdowns for Greater China at the end of 2012. This is the first time there has been a drop in revenues for Apple in China in that time. (UPDATE: Apple has pointed out that it's Hong Kong that's to blame for lower numbers because mainland China sales were up five percent year-on-year).
But, before everyone goes nuts about Apple struggling in the country, there are some extenuating circumstances, notes the WSJ Digits blog. The iPhone 5 launched earlier in China compared to the slow roll-out of the iPhone 4S, so much of the initial revenue boost from the new iPhone 5 happened in the first quarter of the year, as opposed to it occurring in the second quarter of 2012 with the 4S model. So that was a seasonal shift. Apple will be hoping that successive models get ever faster China launches in the future.
As we noted in statistics from analytics firm Flurry yesterday, China has an estimated 261.33 million active smartphones and tablets on iOS and Android – and about 35 percent of those are iPhones and iPads. So Apple is still China's top individual smart devices maker, well ahead of second-placed Samsung in Flurry's figures. However, numbers for smartphone shipments in China indicate that Apple is fifth in China, beaten by the Android-based offerings of several domestic phone-makers.
(Editing by Anh-Minh Do)

Facebook Conversation
comments