Along with our shiny new design, you may notice we have added a voluntary subscription option to the site. You might be wondering why we've done that, and there are a couple of reasons. The biggest is that additional income from subscriptions will allow us to do more with the blog. With enough money, we can hire more writers, cover more stories, do cooler things with our data, and more. Voluntary subscriptions are a way for us to generate revenue that can be used to improve the site's content without resorting to obnoxious paywalls or big noisy popup ads.
Now, to be clear, we do run advertisements and hold conferences, and those things generate revenue that helps us keep the site above water. We don't want to give you the impression that if you don't subscribe, we're all going to be begging on the streets next week. Subscriptions are totally voluntary, and the site and all of its content will remain totally free for everyone; if you don't want to subscribe, you don't have to. We're just offering you the option, because some readers want a way to give back and to contribute to the development of Tech in Asia. (And if subscriptions don't work for you, we also offer a one-time tipping option).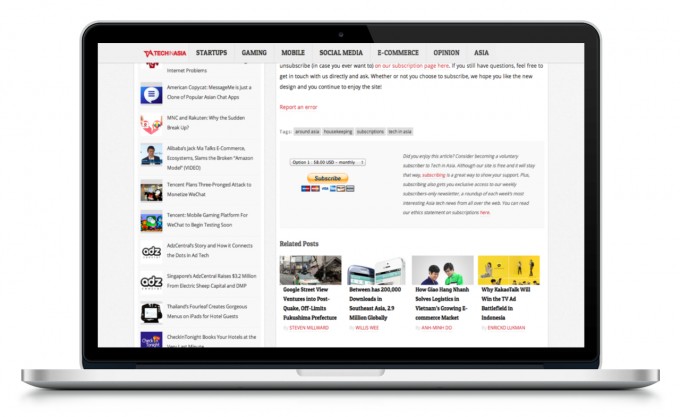 Readers who do opt to subscribe don't only get the warm fuzzies associated with giving back in return though. We'll also be giving subscribers exclusive access to a new weekly newsletter that rounds up all the top Asia tech stories from around the web (including but not limited to Tech in Asia). We think it's something you'll find really useful, and we hope it will give you a little bit of extra incentive to consider subscribing.
You'll notice that we have updated our ethics page to include a section on the new voluntary subscription option, so you can read more information there, and we also have more details and a walkthrough of how to unsubscribe (in case you ever want to) on our subscription page here. If you still have questions, feel free to get in touch with us directly and ask. Whether or not you choose to subscribe, we hope you like the new design and you continue to enjoy the site!

Facebook Conversation
comments