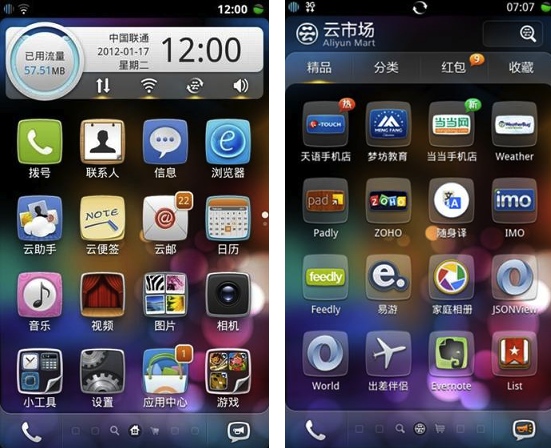 Alibaba has updated its Aliyun mobile OS to version 2.0, bringing a bunch of new features and refinements to take it into the new year. The update will eventually be given to users of its first phone, the K-Touch W700 which debuted with the OS last summer, and will come out-of-the-box on the newest W800 model.
Aliyun 2.0 looks similar to its first iteration but brings new goodies such as an updated app store, now dubbed the Aliyun Mart (pictured above, on the right); folders for apps; more options for third-party services to be accessed by users; a revamped calendar with support for meetings, and for the Chinese lunar calendar; and, the OS now allows login to cloud services on the Aliyun platform via Alipay accounts.
The OS and its first phone was launched last summer with an aim to bring a truly cloud-powered phone to the market for users. And so Aliyun 2.0 features some upgrades that won't be visible to users, such as Alibaba's claim of better data compression for faster and more efficient access to web app content.
Speaking to PO, an Alibaba spokeswoman said that all this is "a significant upgrade" to the software for users. The Aliyun phones, now available in two versions, sell only via China Unicom (NYSE:CHU; HKG:0762) and with a 3G data plan.
In related news, Aliyun phone users got a desktop version of its app store last week that includes lots of Android games which can also run via virtualization on the phones. Games are vital to the success of a mobile platform, which is why Alibaba has already tied-up with Japan's DeNA (TYO:2432) to bring its Mobage social gaming network onto Aliyun.
Alibaba's foray into mobile faces stiff competition from Baidu (NASDAQ:BIDU), which now has an Android-based OS that recently launched with Dell (NASDAQ:DELL), a bigger name hardware partner than the Aliyun phone has.

Facebook Conversation
comments