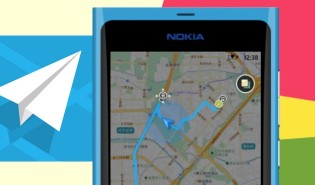 Alibaba has been throwing money around like it's going out of style recently, and the latest confirmed investment (several more are rumored) was its purchase of a 28 percent stake in AutoNavi just a week after picking up an 18 percent stake in Sina Weibo. Collectively, the company has now spent nearly $900 million on the deals, and while we've looked at the reasons why Alibaba would want into Sina Weibo, the benefits of joining forces with AutoNavi may be less apparent.
AutoNavi is China's top online mapping company, so the most obvious benefits for Alibaba are mapping-related. If the company is interested in moving into location-based services and commerce — and it obviously is — there's no better partner in China than Autonavi, as no one has better maps or more location data than the company. And if Alibaba and AutoNavi can integrate their systems effectively, Alibaba will be able to quickly amass a remarkably precise database of things like purchases and consumer behavior based on location.
This data could be used in all kinds of ways. For example, Alibaba could monitor public pollution data and then automatically market air filters and masks to people who are located in the most polluted areas. Its system could analyze trends and notice that people in your neighborhood tend to buy more of one type of product than the general public, and then market that product more heavily to anyone from the neighborhood. It could even analyze AutoNavi's data to determine which areas lack easy access to which brick-and-mortar businesses and then push those products more heavily online. 'We see you live six miles from the nearest store that sells maternity clothing; why not buy it online instead?'
But another more easily overlooked aspect of AutoNavi's appeal may be its userbase. The company has more than 100 million users on its mobile apps alone, and Alibaba certainly recognizes that China's internet is getting increasingly mobile, so any access the company can get to large groups of mobile users is certainly valuable. And there are certainly ways to integrate location-based marketing like I've described above into AutoNavi's existing apps, should the company choose to do so.
Still, with all these investments it's starting to feel like Alibaba has some very specific course laid out for itself, the details of which aren't yet clear to the public. The company has obviously embraced Big Data with both arms (it apparently wants to know what you're saying, where you're going, and even what music you're listening to) but the ultimate endgame remains something of a mystery. Uber-targeted marketing? A groundbreaking new social commerce mobile app? Major changes to its web platforms to make them more social and localized? All of the above? We'll have to wait and see.

Facebook Conversation
comments