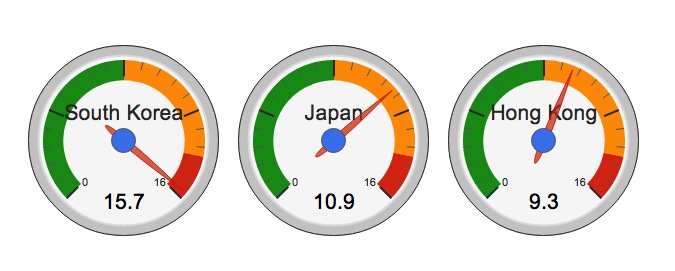 Akamai recently released its Q1 2012 State of the Internet report, showing key insights about internet development around the world. Looking at the big picture, there's good news with the average global connection speed, 2.6 Mbps, up 14 percent in the first quarter of 2012 over the previous quarter.
Leading the way with a blazing average speed of 15.7 Mbps was South Korea, with a significant lead over Japan which notched an average speed of 10.9 Mbps. This was despite dropping 1.5 percent over the previous quarter.
Hong Kong rounded out the top three with 9.3 Mbps. All three Asian regions held the same 'podium' positions since Akamai's last report [1]. The rest of the top ten were European nations, with Netherlands and Latvia rounding out the top five, with 8.8 Mbps each. The United States finished 12th at an average speed of 6.7 Mbps.
For a general idea of how internet connection speeds are progressing by country, I've mapped Akamai's quarterly connection speeds for various countries around the world going back to 2007. Note that Q1 2012 is not included in this map, but it does give you a pretty good idea of the trends in each country over the years. As you can see, the Asia mega-markets of India and China still have a long way to go, although the latter is making progress.
---
And since we last whipped up one of these maps.  ↩

Facebook Conversation
comments