It seems like the online advertising industry in Indonesia is definitely heating up. The fact of the matter is that Indonesia's digital ad spending is still a lowly one percent compared to overall ad spending, but it is forecasted to have significant growth in the coming years. Understanding that, Indonesia's Italo Gani (former CEO of ad network Adstars and chairman of InboundID) and Daniel Armanto (co-founder of social network Koprol) are now building Adskom.
What problem does Adskom solve? The current advertising business model in Indonesia demands partner-like ad networks to compete with each other to gain the available ad spots on publishers' sites (pictured below). There are two problems with the model.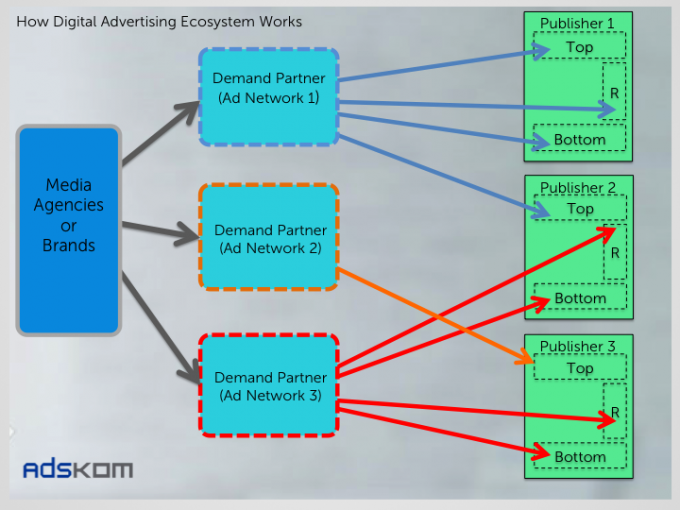 The first, from the publisher's side, is that when an ad has reached its quota, it gets turned off automatically, and publishers will not earn any money until they activate another ad on that same spot. The second, from the ad-network's side, is that they have to compete with each other for the ad spaces. Adskom's first product, which is a form of supply-side platform (SSP) looks to solve those issues.
According to Adskom, with this new SSP publishers can now automate the ads' back-end, which solves the first problem. Second, now ad networks can have access to all publishers' ad spots because it is now aggregated by the Adskom system (pictured below).
Furthermore, the system will also calculate the effective cost per thousand views for each network's ad on a particular publisher's spot. In that way, both ad network and publisher can optimize the online ad spending and income better. The whole process can be automated, or if the publishers want to do it manually, they can choose which ad from which network they want to show. The SSP will calculate which ad is optimum for that particular publisher. From a lay person's point of view, Adskom's SSP will become an alternative to Indonesian website owners having to work with multiple ad-networks.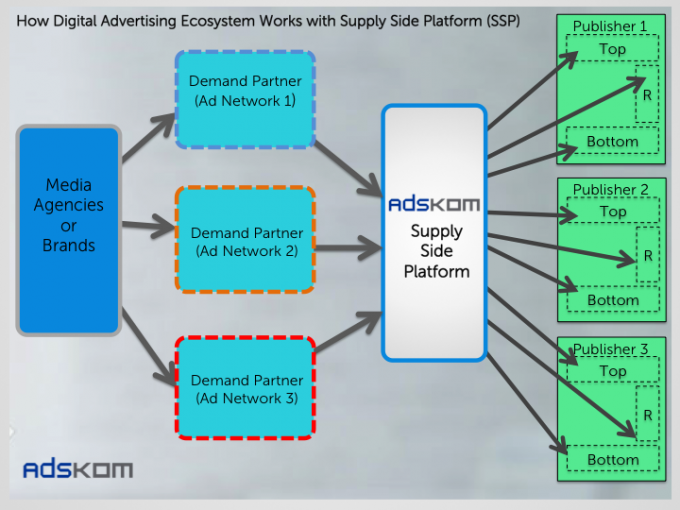 Adskom is also announcing having closed a seed round of funding from Rebright Partners, a Venture Capital firm in Japan, and is looking to operate mainly in Indonesia and in Singapore. The service will be fully launched in the early third quarter this year.
Italo claims that while the SSP business model is quite common elsewhere, it is still almost non existent in Indonesia and Singapore, perhaps even in Southeast Asia.
In related industry news, a new mobile advertising agency called ad2c opened its regional office in Indonesia.

Facebook Conversation
comments