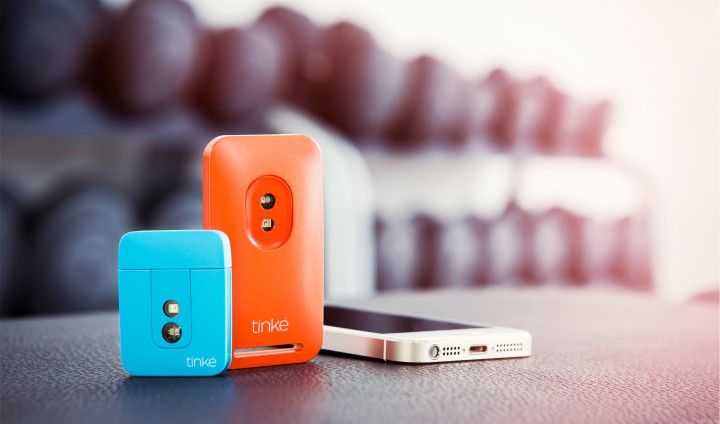 Recent years have seen a proliferation of tracking devices for fitness entering the market. From the Fitbit Flex to the Garmin Vivofit, the choices out there are more than enough to make your head spin. To stand out in this space, a tracking device has to offer either better wearability or a wider range of metrics.
With this in mind, I was rather impressed by the four health parameters offered by the Tinké, making it the only sensor on the market able to pack heart rate, heart rate variability, blood oxygen level, and respiratory rate measurements into a single device.
Singapore-based Zensorium, the creators of the Tinké, is fully funded by Nitto Denko Corporation, a Japanese company that produces tapes, LCDs, and other products. The research was initially conducted in the Nitto Denko Asia Technical Centre in Singapore, and Zensorium was started as the commercial arm when it matured.
Packing hospital technology into a tiny package
The four health parameters offered by the Tinké far surpass the measurements of other fitness trackers in the market, and yet the Tinké is no bigger than than the size of your thumb.
The secret to its compactness lies in the mobile app. By leveraging on smartphones and the app, the Zensorium team was able to eliminate the need for a screen and battery in the Tinké.
Instead, the Tinké is a plug-and-play device – all you need to do is to plug it into your smartphone, press your finger on the sensor, and all the readings will be delivered within seconds. Simple and elegant.
The Zensorium team first came upon this idea back in 2009 when they discovered the market only offered monitoring equipment for the unwell, while those who were healthy lacked access to information about their well-being. This spurred them to build a device that could carry out vital signs monitoring in people's everyday lives, rather than only in a medical environment.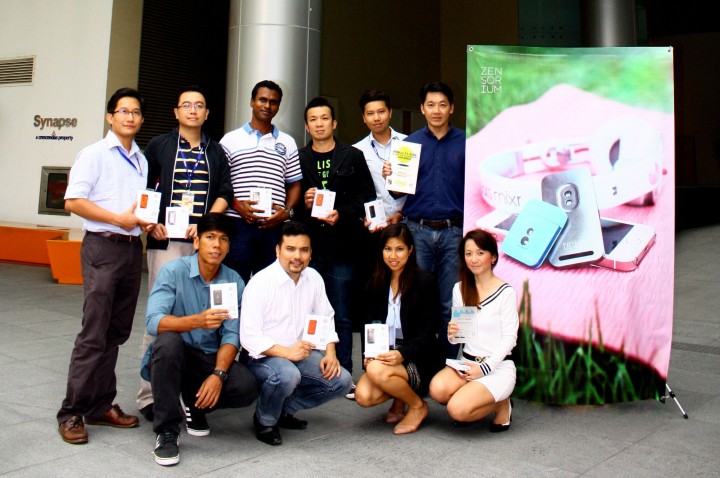 Their target market at the moment is primarily people with an interest in fitness and wellness. With the Tinké, they can understand more about their bodies and make more informed choices about their lifestyles.
"We targeted this group because they already understand the importance of quantifying and monitoring themselves," said Juliana Chua, Principal of the Business Innovation Group, Zensorium. "Going forward, we are also slowly expanding our reach to people who may not be into fitness but would like to understand more about their bodies."
To make the data collected on the Tinké easier for users to understand, they also included two indexes that put together the various parameters. The Vita Index is a personalized score created by piecing together the user's heart rate, respiratory rate, and blood oxygen saturation levels, providing an instant interpretation of your fitness. The Zen Index uses heart rate variability as a basis, giving the user a personalized score that quantifies his or her level of relaxation.
Made unwearable by design
The bulk of fitness trackers in the market today are wearable largely because it has the advantage of seamlessly becoming a part of the user's daily routine. Many people choose a certain type of tracker based on how comfortable the device feels on their body.
(See: This husband-and-wife team created a fitness tracker that will make you go "Why didn't I think of that?")
The Tinké, however, bucks the trend by deliberately being "unwearable". The reason: to not compromise on its accuracy and efficiency.
"The analogy we like to provide is to imagine the setting of a clinic between a patient and a doctor," explained Juliana. "Motion creates interference to measuring, which affects the accuracy for measurements, so we made Tinké 'unwearable' and to be used at rest so as to not compromise its accuracy and efficiency."
While it might compromise accuracy, I personally feel that wearability is a huge advantage for a fitness tracker. Having an extra device in my pocket in addition to my phone, wallet, and battery charger isn't a very compelling notion.
Looking ahead, the Zensorium team has plans to create an entire suite of products that would resonate with their mission of improving the quality of life of their customers. At the moment, they ship to more than 30 countries globally, and are looking to expand their reach to people who may not be into fitness but would like to get to know their bodies better. It is currently retailing at US$119.
Editing by Terence Lee
Have Your Say!