(Update: We added Dolphin Browser's response regarding their plans to open a representative office in Indonesia.)
Back in June, China-based Dolphin Browser teased us with hints that it would expand to Southeast Asian countries soon, and it has finally made its move today with its entry into Indonesia.
Besides language support, Indonesian users can expect to see localized content on the bookmark and speed dial sections. Furthermore, the browser theme has been specially designed for an Indonesian audience.
To use the Indonesian version, users must first need to set their phone's default language into Indonesian before installing Dolphin Browser.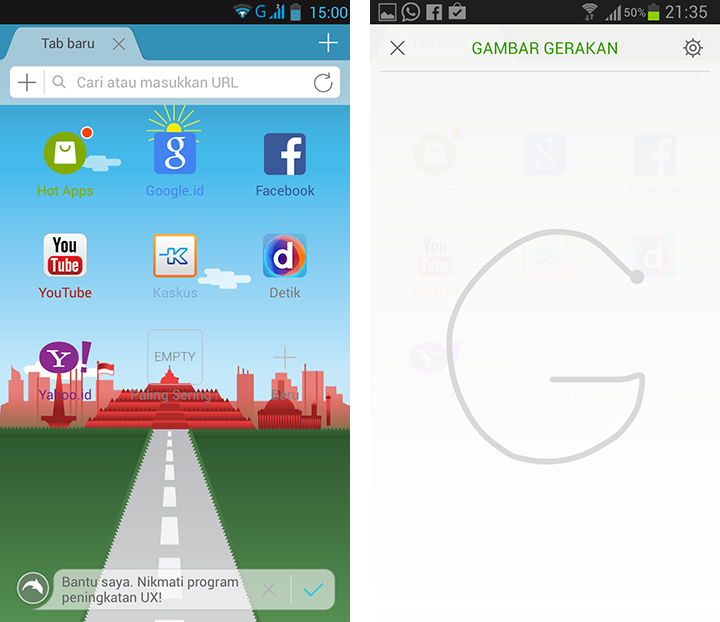 Entering Indonesia
The team plans to approach and cooperate with many local partners like device manufacturers, operators, and internet-related companies. There is a good chance we will soon see Dolphin Browsers pre-installed on Android devices in Indonesia, just like how it is pre-installed on KDDI phones in Japan.
Dolphin Browser's largest user-base resides in the US, China, and Japan, and the company has set up offices in all of those three. Tyovan Ari Widagdo from Dolphin Browser tells us that they have not set up a representative office in Indonesia, but they are open to such possibility in the future.
Competition in Indonesia
Dolphin's fiercest competition in Indonesia will most likely come from Opera as the country is Opera Mini's second biggest market after India. Opera told Tech in Asia recently that it records a staggering 182 percent smartphone user growth in Indonesia this year and its Opera Mobile Store is doing well in the archipelago country too.
Dolphin will be relying on unique features like Smart Gesture (users can access saved websites using gestures) and Intuitive Sonar (voice control feature) in order to differentiate itself. The browser claims to be the fastest of its kind when opening HTML5 sites, according to html5test.com.
Dolphin currently claims to have 80 million users globally. Since 750,000 already reside in Indonesia, the move perhaps comes as a logical next step. Indonesia is a massive mobile market, with about 40 million mobile internet users at this time.
(Editing by Steven Millward and Josh Horwitz)

Facebook Conversation
comments