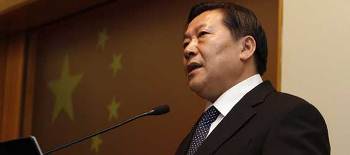 China's State Information Office director Lu Wei published an article in the People's Daily yesterday on the importance of online public opinion work – what some might call propaganda and censorship. The report essentially outlined the short-term actions the party will take or continue to take in its effort to minimize "negative energy" online, otherwise known as any content that harms the Communist Party's image.
You can read the full translation on the China Copyright and Media blog, but I've summarized the major points below.
1. No one can be anonymous
Expect more strict enforcement of real-name registration for individuals, which has already begun.
We must strengthen the construction of an online sincerity and honesty system, and realistically move forward with microblog user real name information registration and authentication work."
I wish more people would do this on their own behalf, but I certainly don't believe it should be government-mandated. But the CCP isn't just making it impossible for individuals to be invisible online. Lu Wei also suggests more thorough registration of media outlets and websites to cover all the bases.
Persist in implementing an administrative licensing system for online information services involving the public interest. [...] We must strengthen website registration and filing, and management of access service, domain name, IP address, and other basic resources.
2. Incentivize snitching and brown-nosing
We must complete and perfect report award structures, giving rein to the positive function of the broad netizens in cleaning up the online environment.
Sell out your comrade and earn a promotion! When thousands of internet thought police aren't enough to stop deprecatory Weibo posts from slipping through, Lu Wei suggests netizens police themselves. He wants to "promote those excellent cadres who combine ability and integrity, and have good overall accomplishments, to leading positions."
3. Control loud voices
As we saw with outspoken Weibo user Charles Xue this week and many other celebrities before him, the government wants well-respected Chinese personalities to shut the hell up with all their talk of social inequality and other inconvenient things. To do this, Lu Wei says the government will work more on "online celebrity uniting and guidance work." Those holding top positions at popular websites will also be pulled into the Party line:
We must strengthen website employee training and implement post certification structures for focus posts.
4. More propaganda
Lu Wei says the CCP wants a "positive" online environment, so as not to "ruin the social atmosphere and harm the youth's physical and mental health." But according to his suggestions, the Party is really only concerned with its own "positive" image, because a negative environment threatens its consolidation of power.
Strengthen and improve online positive propaganda and public opinion guidance, vigorously disseminate online positive energy.
He says the CCP "must persist in correct public opinion guidance" and "realistically and substantially implement the principle and requirement that the Party manages the media." Sarcastically, the party knows best.
5. Internationalize the technical foundations of the internet
This is more of a means to an end than a direct power grab and not explicitly stated by Lu Wei. To control what's being said on the internet, the CCP needs more control over the internet itself. The web standards people who decide how the internet is structured are largely Western entities, like ICANN and W3C. China has slowly been luring those organizations inside its borders to have more of a say in those decisions. Recently, for example, ICANN approved two new Chinese language web domain endings.
"Clean and crisp cyberspace"?
The Communist Party is fighting an uphill battle to "purify" the internet. While I don't believe its campaign for a positive online environment will work, the CCP's ongoing fear tactics could certainly slow down the country's progress towards a free internet. In Lu Wei's own words:
We must strictly attack acts of disseminating obscene and vulgar information, protect citizens' personal information, firmly attack online rumours, punish law-breakers according to the law, and realistically standardize online information order, ensuring that our cyberspace becomes clean and crisp.
(Editing by Steven Millward)

Facebook Conversation
comments