The startup pitching session of Indonesia Digital Byte (IDByte) 2013 kicked off with startup hunts in four cities in Indonesia. We dropped by to the Jakarta pitching session where each startup was vying for the winning spot along with prizes. Included in the prizes was a trip to South America or Middle East under the Geeks on a Plane program and a chance to receive US$50,000 investment from Dave McLure, the founder of venture firm 500 Startups.
Here are a few interesting startups that we saw:

Beautiplan is a social network platform for beauty enthusiasts in Indonesia. People not only can post their articles, photos, and videos inside the website, but they can also shop online too. What's impressive about this startup is the founders and its partnerships so far.
The founders are experienced Indonesian serial entrepreneurs Denny Santoso (founder of fitness websites SixReps and DuniaFitnes), Sanny Gaddafi (founder of social networks like 8Villages and FUPEI.com), and most interestingly, the Puteri Indonesia of 2008 Zivanna Letisha is also on the team.
Inside the one month beta phase, the team has partnered with Puspita Martha International Beauty School which has around 350,000 alumni every year. They will become Beautiplan's potential users. The startup has also tied a deal with Yahoo! Indonesia SHE to help publish the Beautiplan articles. The startup will be launched next month.
Unyu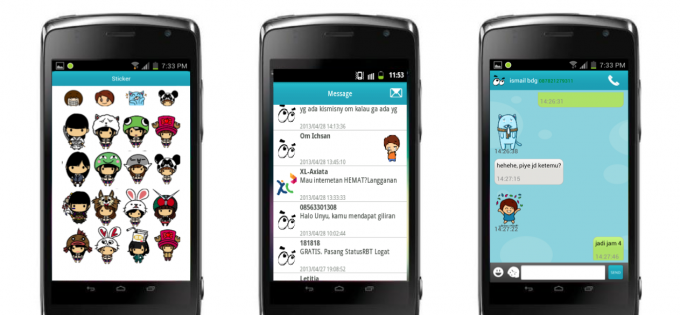 I found this startup's business model to be the simplest one to understand. Unyu lets feature phone users to use cute emoticons inside their SMS (pictured above).
Users would first need to download Unyu app on their phones (work on a lot of devices including WAP, Java, Symbian, Blackberry, Android, and iOS). And done, every SMS that comes in will go into the usual SMS default folder on phones and also into Unyu's SMS app.
To use Unyu's app, users would need to subscribe first, they can do so on daily, weekly, or monthly basis. Unyu team told me that they are hoping to offer free SMS for every subscription made, so people can chat seamlessly as if they're using Blackberry Messenger. I'm not sure how the telcos will react to that, but putting in stickers into SMS is a simple idea yet can also be a very effective product.
Unyu will be launched in a few months time. The product is developed by developer Aiti Corp.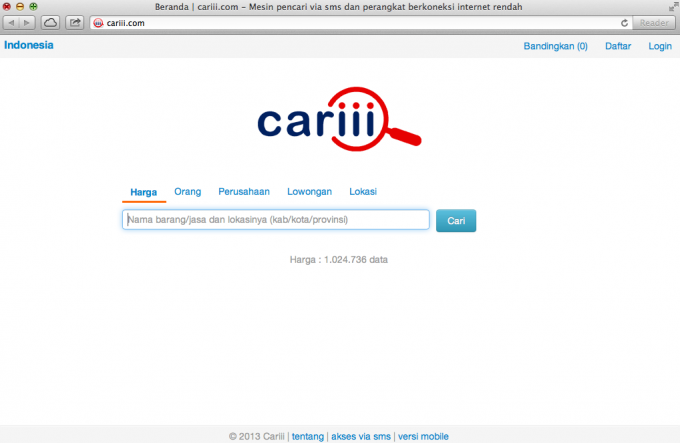 Cariii is a search engine that can be accessed via SMS. People living in rural areas can use the service to look for people, company, price, and job. The team is charging people for each SMS search.
A similar service looking to offer information to people living in rural areas is 8Villages. But the startup doesn't offer search engine feature like Cariii. The startup will be launched next month.
Soccer Ticker

Yes, this is the same Soccer Ticker app that we've talked about a few times before. This one gets an honorable mention here due to the interesting data it offered. While co-founder Vincent Putera couldn't reveal the user numbers during the event, he did reveal that his app is on one percent of the whole Blackberry 10 devices shipped so far. Soccer Ticker will also be pre-installed on two handset brands, and this is predicted to help the app activation go from 10,000 to 15,000 every month.
Its users also enjoy using the app too. Out of everyone who downloaded Soccer Ticker, 80 percent keeps on using it. In average, each user spends five to seven minutes when using the app to check football updates whereas during prime time – football matches – the average time of people using the app spikes to around 45 to 60 minutes.
Concerning monetization, Soccer Ticker will become a platform for football brands marketing programs like contests. There will also be premium features like advanced statistics of each player and behind-the-scene footages in soccer world.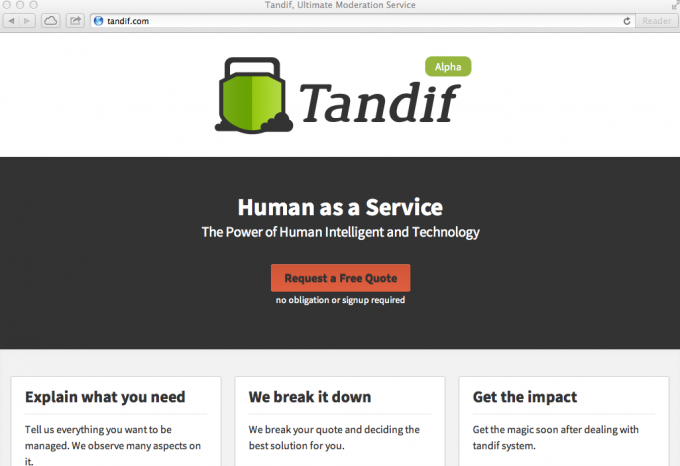 Tandif offers human services to moderate your content. Whether it be forum, Facebook group, or Twitter. There are other more automated products on offer too, like sentiment analysis and automated content filtering.
The team will offer its services in four languages: Indonesia, English, Arabic, and Portugese. And yes, Tandif has hired people in Brazil and Portugal to cater the market there as well. There aren't a lot of Indonesian startups that decide to jump straight to other markets early on. The service is yet to be launched.
Here are the rest of the startups that pitched yesterday:
---
(Updated: We added KulinerPlus inside the article.)

Facebook Conversation
comments