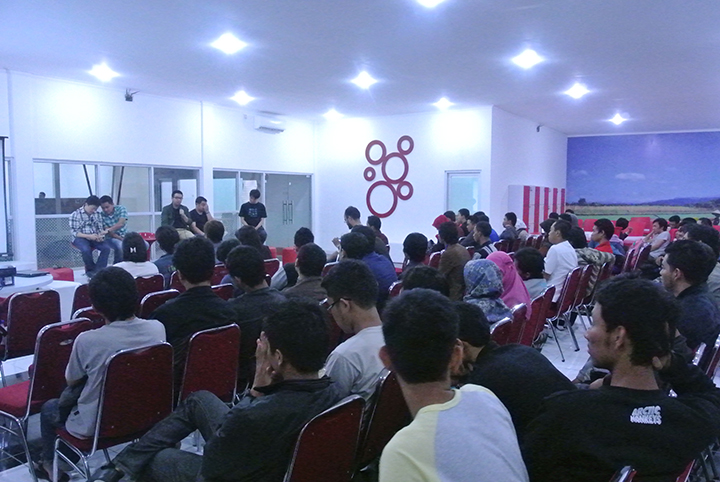 In the middle of our seven-city trip across Indonesia's Java Island, we arrived in the cities of Bekasi and Yogyakarta (pictured above) to meet with the tech communities, startups, and developers there. During the trip we spotted three interesting startups brewing in Yogyakarta as well as one tech community residing in Bekasi.
Our VC panel in Yogyakarta, comprised of Ideosource's Andi Boediman, Systec Group's Imanul Hakim and Christopher Reginald, as well as angel investor Hiro Whardana from handset and tablet manufacturer Cyrus, each gave their thoughts and comments to the following startups.
As head of labs at JavanLabs (the company behind Hartaku and feature phone comic startup Ngomik) puts it, the startup is a software-as-a-service that provides finance apps for small and medium sized enterprises. Users can register and log into Hartaku, and start using the service immediately.
As is the case with any accounting practice, Hartaku requires discipline. You put in all of your transaction information inside the site, and it will process it and produce financial reports like cashflow, balance sheet, and profit-loss statements. They offer a three month trial to users and charge them from IDR 100,000 (US$8.80) per monthly use.
Boediman tells the team to find reasons why users need to start using the app in the first place as it takes quite an effort to re-input the financial figures online. He suggests Hartaku to develop a web app on top of an e-commerce platform like Shopify instead, which makes it easier for users to discover and start adopting the app.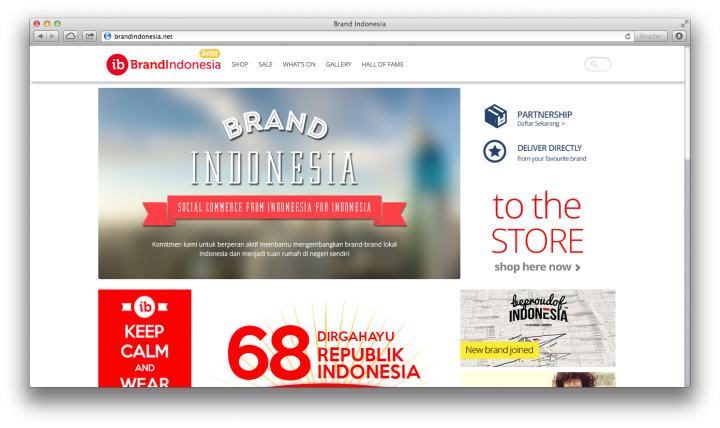 Brand Indonesia wants to be an online marketplace for Indonesian products. Its biggest asset, arguably, is its Twitter handle @BrandIndonesia, which commands over 6,800 followers. Whardana asked the team whether Brand Indonesia's target market is foreigners because the photo models used on the site are not Indonesians. He suggested the team to stick with the "Indonesia" theme all the way through.
Though the site can be accessed, it's still very much empty.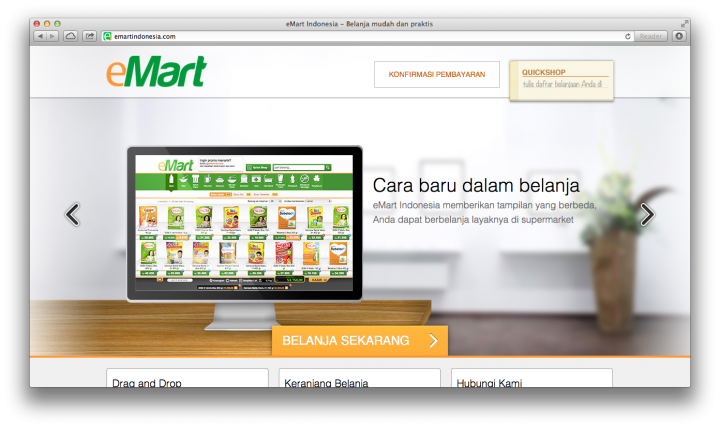 eMart Indonesia is a grocery e-commerce site. There are two interesting features inside. First is that users need to just drag and drop the product thumbnail to put it into the shopping cart, which offers users a different user experience when shopping on eMart. Second is the "quickshop" note feature which lets users type down their shopping list there. Afterwards, the note will search for available products based on the keywords typed inside quickshop.
eMart Indonesia won the merit award on Asia Pacific (APICTA) 2012 in the tertiary student project category. Boediman doesn't think that the eMart Indonesia team can compete with the existing offline grocery players like Alfamart and Indomaret in terms of price. He suggests them to either partner up with one of them, or offer bigger distinct function like monthly grocery shopping feature to users.
4. Sentral Komunitas IT
Sentral Komunitas IT is a tech community we met in Bekasi. The community alone, which comprises mainly of developers, brought about 30 members to the meet and we were more than happy to meet all of them.
The community wants to be the initiator and integrator for the whole tech community in Bekasi. Sentral Komunitas IT provides a basecamp where tech enthusiasts can gather, hang, and collaborate with each other to produce tech products. So far it has over 100 members.
Related
(This article is written in collaboration with my colleague, Aci Suprianto)
(Editing by Josh Horwitz)

Facebook Conversation
comments