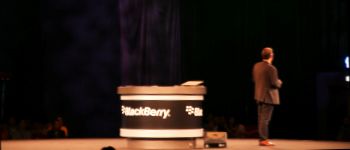 At BlackBerry Jam in Hong Kong this week, the company constantly repeated its mantra of "sense, understand, and adapt" – something BlackBerry is apparently incapable of actually doing. The three words will have to become more than just a chant if BlackBerry wants to remain relevant in Asia. Here's TiA's wrap up of the top four key markets in Asia that the struggling handset maker needs to survive:
1. Indonesia
Indonesia is one of BlackBerry's most successful markets, both in terms of customer base and app development. About 15 million BlackBerry users live in Indonesia, which makes up more than 18 percent of BlackBerry's 80 million worldwide. Of all the BlackBerry apps developed in Asia (about 37 percent of all BlackBerry World apps globally), 14 percent of them are made in Indonesia. BlackBerry's sales there are tanking there, though. It's share of smartphone sales in Indonesia dropped 21 percent in the second quarter from 39 percent a year earlier, so it had better come up with a new strategy fast.
2.Malaysia
Blackberry is the third largest handset maker in Malaysia, where smartphone penetration is exploding at a rate of 137 percent year-on-year. It even launched its latest big-screen Z30 handset in Malaysia before any other country. Not many Blackberry apps come from Malaysia now, but VP of developer relations Alec Saunders says growing a developer community there remains a priority for the near future.
3. India
More BlackBerry apps are made in India than in any other Asian country – a whopping 43 percent. Despite some active BB developers, BlackBerry recently fell more than 10 percent in the first quarter of this year to the fourth spot in smartphone OS market share, now at just 1.2 percent.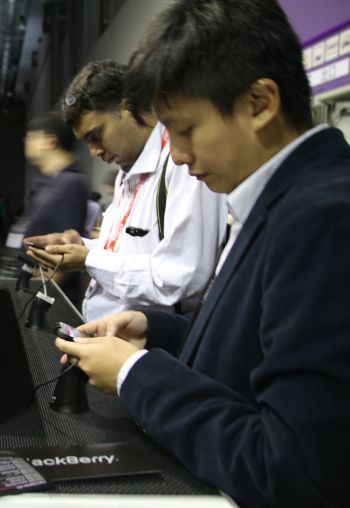 Meanwile, local handset makers using Android are taking up a growing space in the country's booming smartphone market, as evidenced by strong performances from domestic makers Micromax and Karbonn Mobiles. BlackBerry partnered with Micromax to pre-install the Android version of Blackberry Messenger (now on hold due to a security bug) on its new line of Canvas handsets, indicating that it has hopes for surviving in the form of software. As for hardware though, Saunders says India is a very "price-sensitive" market, and BlackBerry will not try to compete at the low end.
4. China
Despite BlackBerry's nearly zero percent market share in China, Chinese developers still account for 23 percent of all BlackBerry apps made in Asia. If you include Hong Kong in those figures, that number is significantly higher. Saunders says BlackBerry chose to hold their conference in Hong Kong this year, instead of Singapore or Bangkok as they usually do, to get in touch with more Chinese developers.
---
Despite it's pending sale to Fairfax and recent dismissal of 4,500 employees due to poor sales, BlackBerry managed to throw a decent event and treated its guests well. But I can't ignore a muted sense of desperation and denial from many of the developers and staff.
It's as if everyone at BlackBerry Jam is on a sinking cruise ship, but the passengers and crew just keep talking about how great the buffet is. BlackBerry needs Asia if it wants to stay afloat, but the water is rising fast.
(Editing by Josh Horwitz)

Facebook Conversation
comments