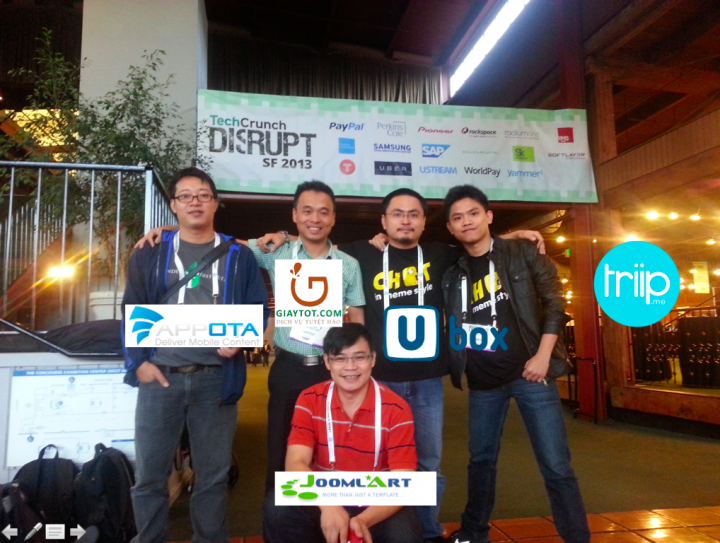 I came along with a group of Vietnamese startups to TechCrunch Disrupt this past week to participate in Startup Alley. Amidst the clamor of Michael Arrington's barrage of questions to his helpless interviewees and the many startups and investors who came through the Concourse in San Francisco, a small group of startups got to introduce their products to Silicon Valley.
Each startup represented very different facets of Vietnam's growing and promising startup scene. Here are the guys from Vietnam:
Triip – As we've written about in the past, Triip is a startup that basically crowdsources local tours for tourists who want an insider's take on their favorite destinations. Triip will be sharing some new announcements with us soon.

Appota – Appota, one of Vietnam's most important mobile content platforms, just came out with a new app called Social Play. The team took the opportunity to come out to TechCrunch Disrupt to quietly launch the new project that will go fully live in a month. Social Play is basically a social network for gamers. We'll check in with Appota and give a full review when it's released.

Ubox – This is essentially a startup that allows users to interact over memes that are popular on the social network. Like Appota, the Ubox team also took this opportunity to launch the project. After just one week of release, it's already hit 35,000 visitors per day and looks to be gaining steam fast. The team, after gathering feedback at Disrupt, will be looking to parse the app (which operates on web and mobile) to be more simple and focused. We'll be giving Ubox a full review in its next iteration.
All three of these startups are less than two years old and represent the new generation of Vietnamese entrepreneurs that will lead the way into Vietnam's explosive tech startup growth that some say will continue to grow until 2015.
Special mention:
In addition to the above three startups, two other startups from Vietnam tagged along: JoomlArt. As I wrote before, GiayTot is the leading shoe e-commerce site in Vietnam. JoomlArt is a company that many consider to be one of the more successful startups in Hanoi as it became very successful by building communities, platforms, websites, and software architectures on top of the Joomla content management system. Since its success, JoomlArt's founder Dinh Viet Hung has been supportive of Vietnamese startups by being an angel investor.
(Editing by Paul Bischoff and Steven Millward)

Facebook Conversation
comments