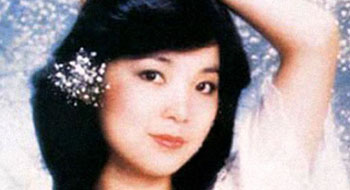 Remember last year when a hologram of Tupac performed alongside Snoop Dogg and Dr. Dre at Coachella? Well, the company who went bankrupt shortly thereafter has risen from the dead to recreate a concert with deceased Taiwanese pop star Teresa Teng. California-based Digital Domain 3.0 resurrected Teng to perform a duet with living Taiwanese singer and actor Jay Chou. Together, they performed two of Chou's hits - Red Tavern and Thousand Miles Away – and one of Teng's - What Have You to Say. About 15,000 fans attended the concert in Taipei.
Teng died in Thailand in 1995 at 42 years old. Time named her one of the world's top seven female vocalists in 1986. She was extremely popular across East Asia.
Digital Domain 3.0 went bankrupt for unknown reasons shortly after the holographic Tupac performance. The company restructured and continues to mainly work in special effects for Hollywood movies. Its resume includes Titanic, Iron Man 3, and the Transformers trilogy. You can see how their holograms (which aren't actually holograms according to the technical definition) work here.
(Editing by Steven Millward)

Facebook Conversation
comments