Daily deals websites have been around for a while. My friends are always talking about the great deals they've found online, be it gadgets, restaurant discounts, even tour packages to remote and exotic locations — but I'm always late to the game. So I decided to brush up on all the top deal sites for this giant list.
The following is a compilation of just a few of the many daily deals sites that have popped up in the Philippines in recent years. As a metric, I've included the number of Facebook likes each site has tallied to date. Some are veterans in the e-commerce wars, others are relative newbies. Most are homegrown ventures, while a couple can trace their roots overseas.
Several of these sites are also categorized as group buying or collective buying sites, where a minimum number of buyers must buy into a deal or promo before it can be claimed. If this minimum number, or tipping point, is not met by the promo's deadline period, it is cancelled and no charges are made. The rest are your standard daily deals sites.
Facebook likes: 628K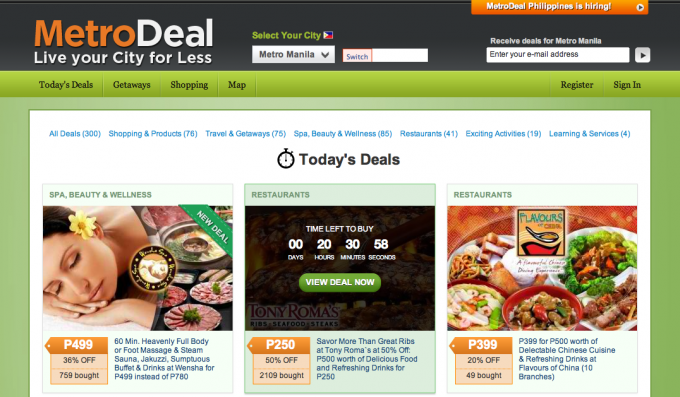 Recently covered here at Tech In Asia, MetroDeal as the number one shouldn't come as a surprise. With 299 deals available (as of this writing) it's a destination for bargain-hunters. This site gets over two million unique visitors per month.
Facebook Likes: 468,412
Originally created in Thailand in 2009, LivingSocial came to Manila in July of 2010. Featured products range from simple snacks at well known restaurants to fully packaged vacation deals. Registration is free and simple, and buying a deal nets you a voucher, which you can print and present to the featured merchant. You can also earn Ensogo credit by inviting friends to be members. These credits, which cost 1 peso for 1 credit, can then be used as good as cash to buy deals of your choice.
Facebook Likes 342,183

Founded in 2010 after first-hand frustration in bargain hunting in the malls of Metro Manila, Cash Cash Pinoy features a lot of fashion products, gadgets, and travel packages. Delivery is free nationwide, and the site promotes fast, priority shipping, with hassle free returns. Payments can be made, as with most e-commerce sites, via credit card, PayPal, GCash, bank deposits, or even over the counter at a 7–11.
Facebook Likes: 129,621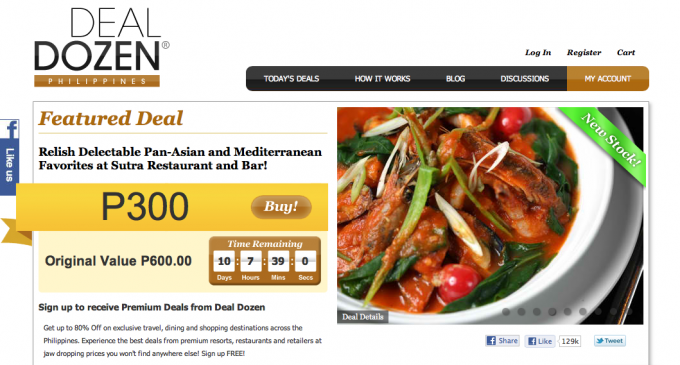 At first glance, Deal Dozen (DD) appears to be a very high-class e-commerce site. Further browsing proves this, as DD clearly advertises itself as a lifestyle website as opposed to general e-commerce. You can tell a lot of attention to detail was placed on website design, perhaps in the hope that pleasing visuals would entice visitors to buy more. Aside from beauty and luxury products, there is also an abundance of enrollment programs for advanced education for younger children. DD also offers 'buy and share' deals wherein you get special incentives if you share certain deals with friends on Facebook.
Facebook Likes: 105,120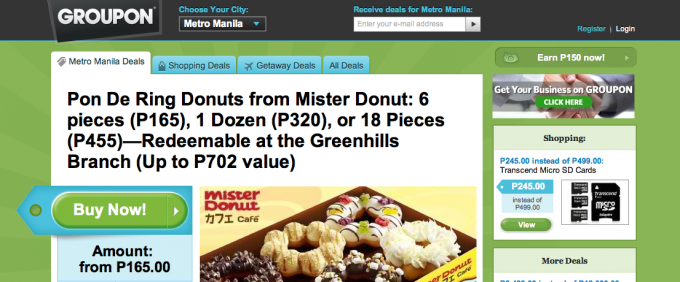 Launched in November 2008 in the US and officially arriving in the Philippines in February 2011, Groupon is advertised as the fastest growing internet company in history, reaching US$1 billion in sales in only 17 months. It has also been featured on the cover of Forbes and TIME as one of the top 50 websites in 2010. The catch is that for every deal, a minimum number of people must sign up before 12 noon, otherwise the deal is cancelled. No charges are made at this point, though the deal is lost.
Facebook Likes: 87,736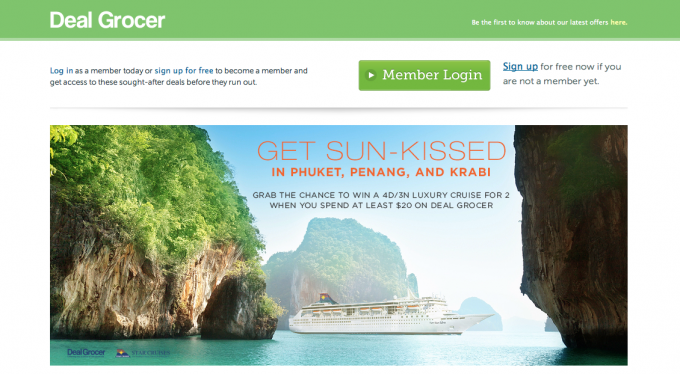 Similar to DealDozen, Deal Grocer (DG) aims for a more luxurious and lifestyle-oriented approach to daily deals. Fine dining, exotic vacation packages, beauty products, and treatment offers – these are plentiful at DG. Purchasing a deal nets you either an electronic coupon delivered to your email, or an actual gift voucher delivered to your address. Also, DG claims that its featured deals are exclusive to its site, not available elsewhere, not even directly from the merchant. One thing of note is that all prices are in US dollars, and are charged thus, so even payments over the counter at banks are at US$ rates.
Facebook Likes: 76,438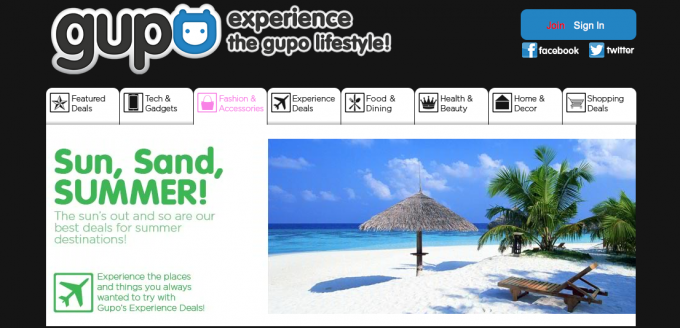 The name Gupo is derived from the Filipino word 'grupo' for 'group', and that's how they advertise their deals. Gupo is again a lifestyle-oriented site, with lots of special offers for vacation packages for groups, salon and spa packages for couples, eat-all-you-can offers from well-known fine dining establishments, even group packages for pet check-ups and consultations. Of note however, is that though the site is rich and vibrant, there is no FAQ anywhere to be found, no information about payment methods, redemption and deliveries, not even word of special deals or promos.
Facebook Likes: 45,741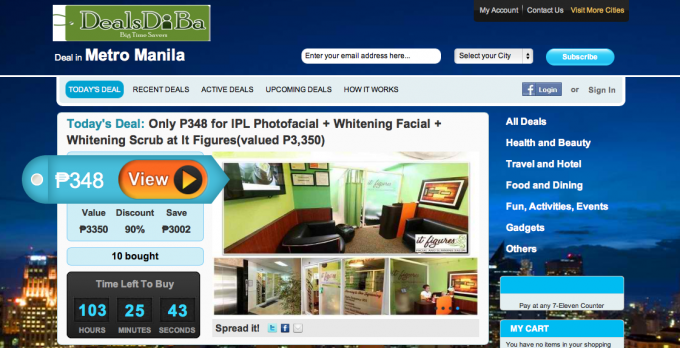 DealsDiBa (DDB) is obviously based heavily on Groupon. Unlike Groupon, which deals in pretty much anything and everything under the sun, DDB again takes the high society route, offering an unbelievably large selection of beauty products, treatment plans, luxurious fine dining, and exotic destination vacation packages. But, take a look at the category list on the side and hit the gadget link: No Deal Available. Payments can be made through the usual channels, credit card, PayPal, over-the-counter. And like Groupon, each deal needs to meet a minimum number of buyers otherwise it's cancelled and no charge is made.
Facebook Likes: 27,887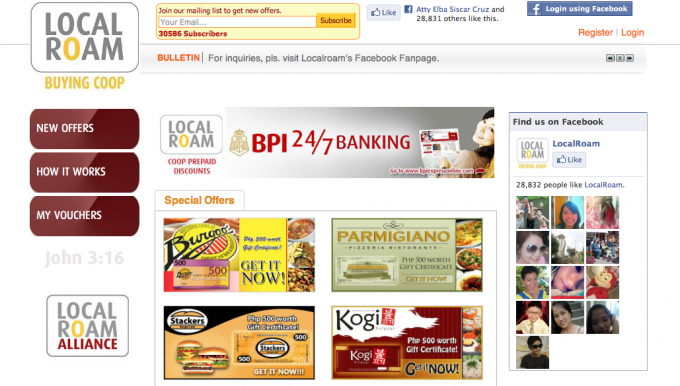 Also recently covered by Tech In Asia, LocalRoam (LR) is a rather specific e-commerce site, or as they bill themselves, a Buying Co-op. Off the bat, LR states that they focus exclusively on four types of services: travel, wellness, basic lifestyle stuff, and education/events. One question though, where exactly are the offers? Though we featured LR recently, one look at their site can leave you scratching your head. There is one deal for travel, one deal for a spa treatment, and five for restaurant offers. That's it. When your competition can field hundreds if not thousands of travel deals to varied locations, having just one on your site is a fail, no matter how great your deal may be.
Facebook Likes: 27,166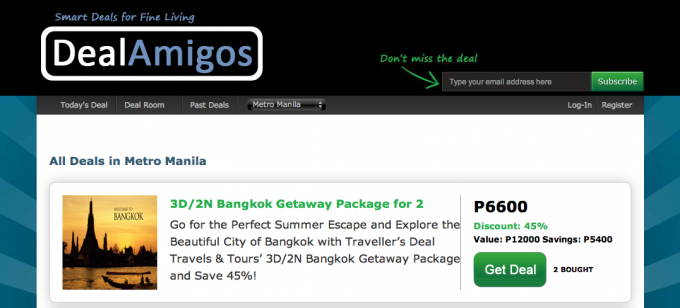 DealAmigos (DA) comes off as a pretty standard e-commerce site. Free registration, the usual payment methods, the same voucher redemption format shared with other sites. Product deals are varied enough, from vacation plans to self-defence stun gun flashlights – but there just aren't enough deals. Though they offer more than Local Roam, they don't come anywhere near the amount of deals offered by sites like MetroDeal and LivingSocial.
Facebook Likes: 26,043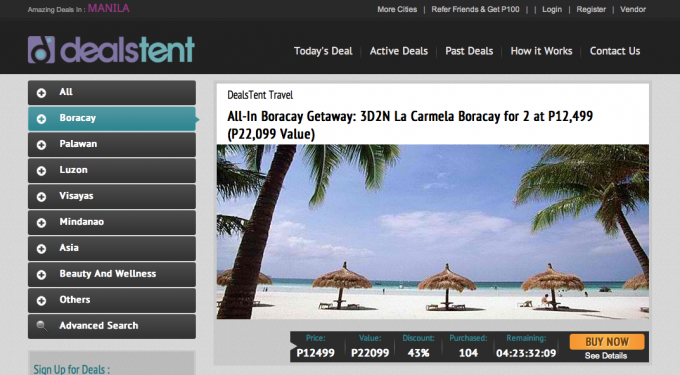 DealsTent appears to be another lifestyle e-commerce site, though on a smaller scale than previous ones, and it shows. DealsTent shares the now common credit card/voucher for payment/redemption model, and offers mostly beauty products & treatments and vacation packages, with a few lifestyle gadgets thrown in for good measure. Ultimately however, there are very few, if any, exclusive deals in place, and definitely not enough deals as a whole, especially when compared to other lifestyle oriented e-commerce sites.
Facebook Likes: 25,084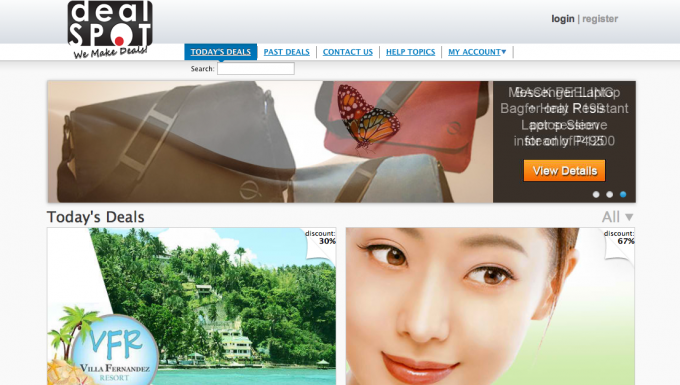 DealSpot is based in Greenhills, San Juan City – arguably 'deal Mecca' in Metro Manila. It's also a group buying site, like Groupon and DealsDiBa. The format is similar as well, buy a deal, get a voucher for later redemption, wait for the deals timer to expire. If enough buyers have taken the bite, the deal is on, just wait for the products to be delivered. If the tipping point was not reached though, the deal is cancelled and no charge is made. DS has a roughly similar list of deals as DealsDiBa – almost exclusively lifestyle products.
Facebook Likes: 6,343

A-Deals oozes exclusivity. How exclusive? Exclusive to the Ayala Group of malls, that's how. For those not in the know, the Ayala Group of companies is one of the predominant business entities in the Philippines. Malls, real estate, banking, you name it. As such, expect a higher quality of deals here, though expect a slightly higher price tag as well. You'll find designer labels, fine dining, beauty products and treatment, even deals for the popular Ayala Cinema movie line. What you won't find of are the travel packages you see on every other e-commerce site. And there aren't as many deals as a whole, but given that the site draws exclusively from Ayala malls, that's understandable. Credit card, PayPal and over the counter at BPI payment modes are available, and you get a coupon for redemption once payment is made.
Facebook Likes: 3,341

OkayOkay is a take on the Filipino word Ukay-Ukay, which has come to mean thrift or discount store, often selling second hand items. OkayOkay is a relatively standard e-commerce site, with a fair amount of deals, though none are truly exclusive, and you don't get the massive volume of deals from more prominent sites. There aren't any revolutionary innovations either, as you still get the standard printable voucher once a purchase is made. And these purchases are again payable with credit cards, PayPal, and your run of the mill over-the-counter bank payments. OkayOkay does have a cash back feature though, in the form of the OKash program. Since you can register an OkayOkay account through Facebook, you can also share a link from the site on your facebook page, and every time anyone clicks that link, you get three percent of its value in 'OKash'. That OKash can be spent on other deals on OkayOkay.
Facebook Likes: 3,295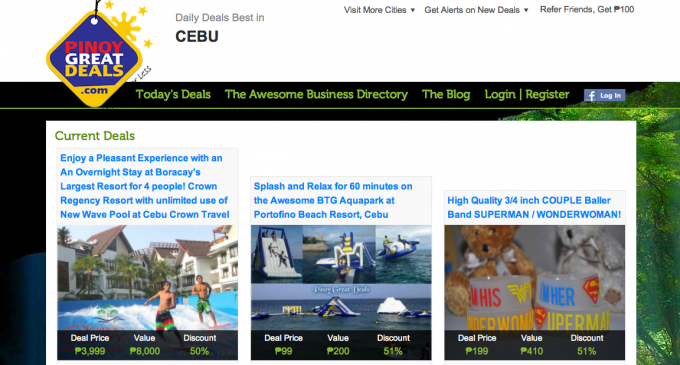 Finally, an e-commerce site not centred in Metro Manila. Pinoy Great Deals (PGD) is actually a Cebu-based site, and is still the only such venture out of the Queen City of the South. PGD doesn't make any daring changes in terms of operating platform. You still get a voucher once you pay with your credit card using PayPal, and registration is still free. The site features a complete list of all its partner merchants though, something you seldom see in other e-commerce sites. And aside from your standard gadgets, beauty products and tour packages, PGD is one of the few sites that offer specialised services like immigration consultation and English language proficiency tests. You can also get PHP 100 (US$2.43) referral for recommending friends to join up.
Facebook Likes: 2,496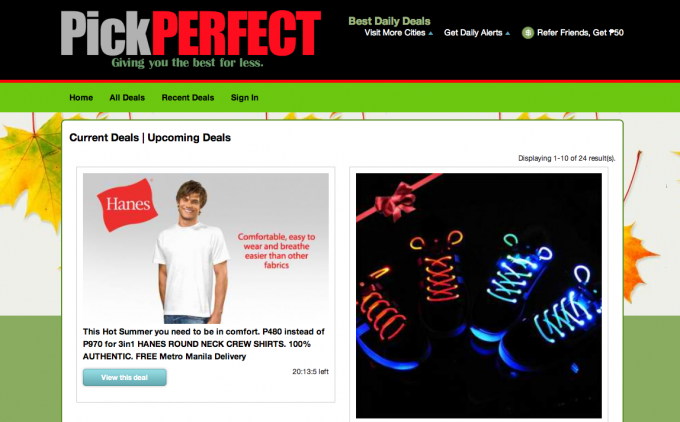 Founded in August and launched in October of 2012 by Dottie Libiran and Tintin Agapito, Pick Perfect (PP) is relatively new to the scene. This is clearly obvious by the lack of variety in items for sale, and by the overall quality of deals available. Not that the quality is low or bad, just not high profile, and there is an abundance of local products as well. Payment options are the norm: credit cards, PayPal, etc. And you have your standard voucher or coupon for redeeming your purchase as well. All in all, PP seems like an e-commerce version of your small-town family-operated business.
Facebook Likes: 1,900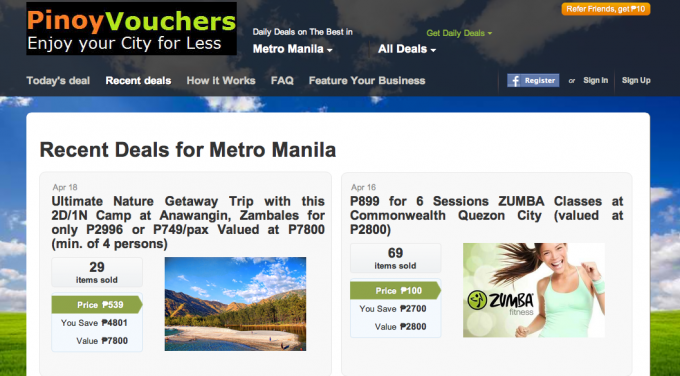 Pinoy Vouchers (PV) is another group buying site, and shares a lot in common with others of its kind. You get the standard voucher system, a coupon you can print after purchasing so you can redeem your purchased deal. You can pay via credit card, PayPal, or over the counter at banks. The deals offered by PV are somewhat standard as well. There are vacation tour packages, beauty products, and other lifestyle products. One thing seldom seen at other sites, though, are deals for discounted ballet lessons for adults and kids, as well as violin group lessons.
Facebook Likes: 1,670
The last site on this list is My Deluxe City (MDC). It offers a fair range of deals, mostly lifestyle products like beauty and grooming products, spa and salon treatments, though they do offer some gadgets and clothing items. Forget about vacation packages here, they're nowhere to be found. And MDC has a section called 'private sale', which is supposedly exclusive to MDC-VIP members, but after creating a quick trial account, these VIP deals appear to be accessible to all.

Facebook Conversation
comments