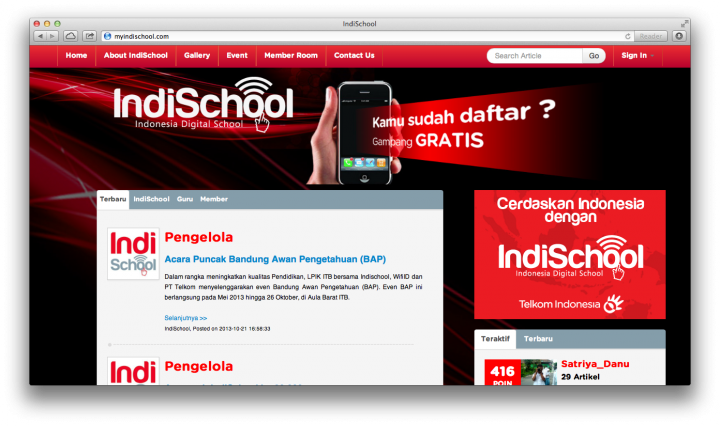 Indonesia's educational sector is definitely getting more connected to the world thanks to the country's largest information and communication company Telkom. The company gave a few updates regarding its IndiSchool wi-fi project on Sunday, and it looks quite promising.
The project has a huge ambition: to install wi-fi hotspots in 100,000 schools by 20151. So far, Telkom installed hotspots in 20,000 schools by the start of October and is on track to fulfill its target. Interestingly, the company installs the hotspots in schools located in rural areas as well, like Sabang Island in Aceh, Enggano Island in Bengkulu, and Alor Island in Nusa Tenggara Timur.
This is not entirely a CSR project, though, as Telkom still charges users based on wi-fi usage. Users can access the wi-fi hotspots in three ways: free daily access for 30 minutes, pay IDR 1,000 (10 cents) for one day, or IDR 20,000 ($2) for 30 days. The wi-fi hotspot garners speeds as high as 10Mbps.
Getting students as paying customers

IndoTelko cites Muhammad Awaluddin, Telkom's enterprise business service director, who said the project now has over 10 million users. Last month, Telkom garnered IDR 5 billion ($450,000) in monthly revenue – not bad for a project just started this January.
How do the students pay for it? About 10 million users pay using Telkom's voucher cards called Speedy Instant Card. 500,000 users pay via phone credit using Telkomsel or Flexi numbers. The Speedy Instant card can be bought via telecommunication outlets from Telesindo Shop.
The company invests about IDR 10 million ($900) to IDR 15 million ($1,345) for each school. Awaluddin calculates the company earns about IDR 100,000 ($9) monthly revenue from each of them.
The team aims to convert its wi-fi users into members in IndiSchool's online community, targeting 500,000 people by the end of this year and one million people recruited by the first quarter of 2014. IndiSchool counts on these members to participate in events like online quizzes and contests integrated with IndiSchool's Twiiter and Facebook accounts.
With this kind of growth and movement, I hope we see more education-related startups in the near future in Indonesia!
(Source: IndoTelko)
(Editing by Paul Bischoff)
---
Originally the goal is to set up wi-fi hotspots to 100,000 schools by the end of this year, but the company changed the timeline for better feasibility.

Facebook Conversation
comments